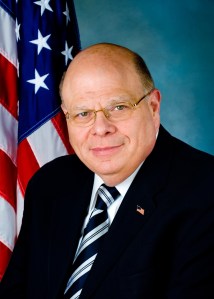 Igor Oberman, who failed to submit signatures in his race against powerful state Senator Carl Kruger, said today that the political world has not heard the last of him.
Oberman said that he thought that the decennial reapportionment could mean new opportunities for Russian-American pols.
"There is redistricting coming up, hopefully in a couple of years there may be possibilities down the line," he said. "There is a census coming out. There may be a lot of possibilities coming up."
Kruger chairs the Senate's Finance Committee, and even though his alliance with Pedro Espada, Hiram Monserrate, and Ruben Diaz angered a lot of voters, he still has $2.6 million on hand, more than any other legislator save for Assembly Speaker Sheldon Silver.
Oberman however received support from many corners. Gay groups, angered by Kruger's opposition to gay marriage, supported him. Public transporation advocates did too, as did good government groups.
It wasn't enough.
"It wasn't the right time to do a challenge. There is too thin of a Democratic majority right now, and with the budget the way it is it wasn't time to go forward," Oberman said.
Oberman insisted that no one pressured him to drop out of the race–"People always think there was some kind of backroom deal," he said. "That wasn't the case–" and he said he now supported Kruger's re-election.
"I believe he is someone important to Brooklyn and the Democratic majority," he said. "There was room at the table for another person, but at this point I would say that we need someone like him representing Brooklyn."
Oberman, who works as an administrative law judge, raised close to $20,000 in his aborted bid.
"This has been a learning experience," he said. "The track record of most candidates is that they try and fail the first time or two and then they are sucessful. I am on the same learning curve."
dfreedlander@observer.com