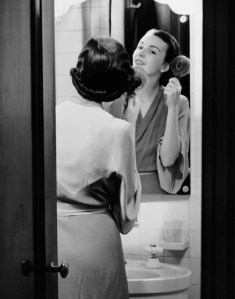 In the essay "If You Sprinkle," from her new book How Did You Get This Number, Sloane Crosley writes about a project she undertook while studying at Columbia. She visited ladies' rooms around the city. In a bathroom at a Chinese restaurant, she ran into an old friend; at a bathroom at Henri Bendel's, a glamorous woman showed Ms. Crosley her ugly, beat-up feet.
There is a generally accepted practice among New York women that the bathroom is still a place to tell secrets; whether it is the best place is not something they devote much thought to. Women go into the bathroom to gossip about someone spotted at a party, divulge something to a confidante during a dinner party, or complain about a co-worker in the office stalls. One needs to only check the stalls for feet before launching into this or that.
"I think because you've already busted through the boundaries of privacy just by having the sham of a metal sheet between you while you're peeing," explained Ms. Crosley of the ladies' bathroom culture. "What's the harm in then having a little verbal sharing?"
Around 2:30 p.m. one day last week, two young, heavily-made-up women entered the restroom on the ninth floor of Barneys in midtown. "I still can't believe Dad said that, that is so funny," one of them said. "He goes, 'Lily, I mean this in the nicest way possible, but you eat like a horse!' I've always eaten that way though…I'm always eating mine and yours."
Also last week, the Transom dropped by a party at the Standard's newly-opened roof bar Le Bain (meaning The Bath). Around midnight, two women were waiting in line for the bathroom: 'it girl' Becka Diamond and an older woman with long blond hair and a beige off-the-shoulder dress.
"I can't deal with that anymore," Ms. Diamond told her companion.
The music pumped louder making it difficult to hear the rest. Next thing the Transom heard, Ms. Diamond's companion was saying, "Unless you are friends, no fucking way."
Next door at the Boom Boom Room's bathrooms–unisex structures famous for large windows that make you feel as if all New York can see you doing your business–two other women were lingering.
"He's cute, isn't he?" said the taller woman.
"Obsessed. Want to marry," the shorter woman replied.
The Transom spotted socialite Fabiola Beracasa back at the roof party, who recalled a conversation she overheard in the bathroom at The Mark Hotel recently while powdering her nose.
"It was these two ladies [and one was saying,] 'You know, I heard that Joanna's husband is cheating on her with I don't know who,'" said Ms. Beracasa. "I was applying powder and leaning in to hear more of the gossip. And she was like, 'I know, she hasn't stopped crying for weeks. I feel so bad for her.'"
Model Agyness Deyn said she is always overhearing bathroom secrets, but feels that there is a responsibility to never repeat them.
"I've heard everything in the bathroom because everyone feels like it's so secret and the rest of the people feel like they can never tell anyone because it's a bathroom," said Ms. Deyn.