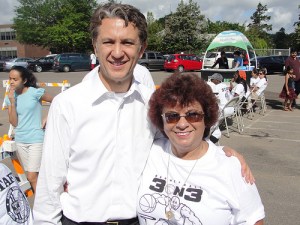 Gubernatorial hopeful Rick Lazio, who has been criticized by Democrats for failing to release his tax returns, called on Andrew Cuomo to "name the time and place" where the two of them, along with their running mates, can get together for a public airing of their IRS forms.
"Andrew, for the good of this election process let us together, along with our respective running mates publicly disclose our federal and state income tax returns for the past ten years to the public and members of the media, at the same time and the same place. While I suggest a location that is convenient for the members of our press corps here in New York, I will even let you pick the time and place."
In 2008, Lazio was paid $325,000 in base salary and $1.3 million in bonus money for his work as a lobbyist with J.P. Morgan Chase, according to this report by Jimmy Vielkind.
In the press release, Lazio pointed out his own work in the private sector while implicitly calling attention to Cuomo's ties to Albany, saying, "As many New Yorkers know, I have spent the past ten years working in the private sector, paying the ever increasing taxes the Albany crowd have levied on the citizens of this state. I have earned honest wages and paid my taxes."
UPDATE:
The NY Democratic Party just called to make sure we saw their statement on this matter. We did, and dutifully post the relevant parts:
Rick's latest excuse is blatantly false. Andrew Cuomo has made nearly two decades of tax returns public while Lazio's records are shrouded in more secrecy than the formula for Coke. It's high time for Rick to stop lying and come clean about the killing he made as a Wall Street lobbyist while Wall Street was killing the economy.