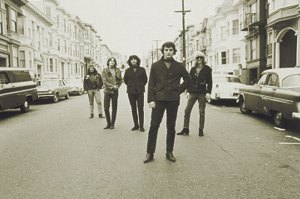 On August 1, on what would have been guitarist Jerry Garcia's 68th birthday, the New-York Historical Society will offer free admission, and a Ben & Jerry's ice cream cone, to anyone in a tie-dyed shirt. The exhibition on view is "Grateful Dead: Now Playing at the New-York Historical Society," and, with its lobby done in bright, striking purple and strains of rhythm & blues escaping from its doors, the two-centuries-old august institution seems to have literally drunk the Kool-Aid of the psychedelic-era band.
Produced by Amir Shoucri
The curatorial salute to the Dead, recently extended to Sept. 5, has been an unexpected blockbuster, and fund-raising boon for the Historical Society, bringing it a more colorful notoriety and a new, equally surprising audience. (Forget substance-addled teens, think nostalgic Wall Street bankers.) While the Historical Society declines to release total attendance figures, it will reveal that attendance is up just over 50 percent from this time last year, when Abraham Lincoln and the Hudson River School were the museum's stars. And the Historical Society's usually sleepy fall fund-raising benefit drew several first-timers, including Dead band members, with the Empire State Building lit in psychedelic colors to mark the party. The Historical Society's visitor-services supervisor, Malcolm Prince, calls it, proudly, the hippest exhibition they've ever run.
Attendance is up just over 50 percent from this time last year, when an Abraham Lincoln show was on view.
The staid Central Park West institution, up to now, has not been known for its daring programming. Recent offerings were "John Brown: The Abolitionist and His Legacy" and "Woven Splendor From Timbuktu to Tibet," which celebrated the 75th anniversary of what the society called "the nation's oldest and most prestigious rug-collecting club." The suggestion for the current show came last year from former Historical Society board member Emanuel Stern. "Some people were surprised … but there was no particular opposition," the executive vice president and library director at the museum, Jean Ashton, responded carefully in an email. The Observer asked Ms. Ashton whether there were many Deadheads on staff at the Society. "A few have emerged," she responded, "and there may be some secret fans."
Grateful Dead, for those unacquainted, were a Bay Area psychedelic rock band whose career spanned three decades, from their formation in 1965 through frontman Jerry Garcia's death in 1995. (Remaining members currently tour as the Dead and, more recently, Furthur.) Only one Grateful Dead song, "Touch of Grey," ever reached the Billboard Top 40, but the band's rabid fan base-known as Deadheads-is legendary. Many 20-somethings in the '70s through to the '90s chose to follow the band from concert to concert, sometimes taking in hundreds of shows. The Historical Society's exhibition focuses on the band's presence in New York, which was a significant one: They played Madison Square Garden 52 times, sold out Radio City, performed at Woodstock and even made an appearance at the Columbia student riots in 1968, where they played on Low Library Plaza.
Nonetheless, Deadheads, acording to Ms. Ashton, "did not play a role in the decision-making or the shape of the show." Indeed, those expecting, nostalgically perhaps, crews of substance-abuse-friendly teens to pour out of buses on Central Park West would be surprised. If you enter the exhibition, you might see, as The Observer did, a small, rotund, polite-looking man-a tax accountant, maybe-wearing gigantic headphones connected to the wall, watching a video of the Dead and dancing quietly to himself. For 20 minutes.
In a March blog post announcing the show on the Grateful Dead fan community dead.net, several readers suggested the exhibition might best be viewed in an altered state of consciousness. "The hand-painted nitrous tanks should be especially inspiring," one commenter suggested, referring to an aspect of the exhibition that does not exist. But given how much of the audience so far has turned out to be parents trying to indoctrinate their children with Dead lore, the contingent of Deadheads who have attended the show in an altered state of mind appears to be small. (Although for the Jerry Garcia's birthday party celebration, all substance-abuse bets are off.)
We did notice one particularly wide smile-on the face of a six-foot-plus man The Observer spotted wearing a cowboy hat and head-to-toe tie-dye, with a small, fur tail hanging from his belt. And Mr. Prince said one rowdy visitor, "Ginger," arrived in a bus and told him she came from heaven ("Security was a little concerned," he noted.)
MOST OF THE show's attendees, so far as The Observer could tell, have been of the middle-aged "cool dad" persuasion. Still, that's not the Society's usual audience. "Typically, for this museum, we cater to a different class. … Historians are crazy," Mr. Prince said. He added that the visitors for this show seem "happier" than those who come out for the abolitionists and the sparrows.
This exhibition's best-selling gift shop items include a pair of cuff links featuring a Grateful Dead logo, priced at $135. There's also a $235 bracelet and signed lithographs that run up to $1,200; more modest fans can opt for a "Grateful Dead-opoly" game, also a big seller. It replaces the "Go to Jail" space with "You're Off the Bus!"
John O'Neil, who said he works for a foreign-currency broker downtown, estimates he has been to "more than 200, less than 300" Grateful Dead concerts. Mr. O'Neil, who attended the show with his wife, laughed when we told him that conservative pundit Ann Coulter is also a self-confessed Dead fan. "Now I have a reason not to change the channel as fast," he said. When we contacted Ms. Coulter for comment, she suggested we check out a Q&A she did with a site called jambands.com, titled "Deadheads Are What Liberals Claim to Be But Aren't." (Taylor Hill, who conducted the interview, is one of the seven lucky journalists on the "REPORTERS WHO ARE ALLOWED TO INTERVIEW ANN AGAIN" section of Ms. Coulter's Web site.)
Ms. Coulter has not visited the exhibition, but the designer and socialite Tory Burch has; she wore a skull T-shirt she designed herself and later posted an homage to the Dead on her Web site. And Ms. Burch is not the only stylish woman willing to confess to being a Deadhead. We also encountered Joan Kelly, a 46-year-old Seattleite who teaches at the Art Institute, runs fashion shows and moonlights as a casting consultant for Bravo network. Ms. Kelly, who boasts of having been to 59 Grateful Dead concerts, said she'd run into a friend from high school at the exhibition just a few minutes earlier. The Observer asked her 11-year-old daughter, Claire, whether Mom was instilling in her a love for the Dead. "No," Claire said bluntly, adding that her mother had decorated her room with the famous Grateful Dead dancing bears when she was a baby.
Cynthia Bogdanovich, a teacher and an East Side resident, also attended with her daughter, 17-year-old Victoria. Ms. Bogdanovich became a Deadhead when she lived in Salt Lake City, she said. "There were a lot of Deadheads in Utah," she noted, to our surprise. Ms. Bogdanovich said it never shocks her to learn that a new acquaintance is a Dead fan.
"Comfy shoes is sometimes a giveaway," she added thoughtfully.
One of the Historical Society's interns, Hedy Chen, put the Grateful Dead show's success this way: "The Grateful Dead is such a big part of American culture. It's not the same as Lincoln, but …" She paused. "The impact is still profound."
So, where does the institution go from here? Mr. Prince speculates on the kind of business a show on the Beatles might pull in, quickly listing Beatles landmarks near the society: Strawberry Fields, the Dakota apartment building. And they did, famously, play at Shea Stadium.
But in September, the society will send the amps and ticket stubs back to the Grateful Dead archive at UC Santa Cruz and get to work on an exhibition opening Oct. 5, titled "Breakthrough: The Dramatic Discovery of Insulin." "I am sure that a different group of people will come to see the insulin discovery exhibition than attend the Grateful Dead exhibition," according to Ms. Ashton. She added that, of course, there may be some crossover.
asymonds@observer.com