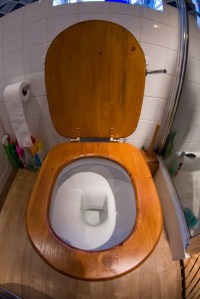 "In a house, maybe in the suburbs, one bathroom on the top floor is sufficient for all bedrooms," broker Purita Young said Sunday. "But not in the city."
She stood in the living room of a condo at 62 West 62nd Street, clutching a small water bottle and pointing out the apartment's amenities. At $1.8 million and 1,380 square feet, it contains two bedrooms and three full bathrooms.
Ms. Young wanted to talk about the apartment's windowed kitchen. When pressed about the disproportionate number of bathrooms, she said it was industry standard. "Three bathrooms because it's three bedrooms." But the bedrooms number only two.
She explained that the apartment used to contain three bedrooms, but the current owners tore down a wall to expand their living room. The future occupant, she assumed, would convert back to three. Even so, the number of bathrooms seems unusually high.
"Not in this area," Ms. Young said, pausing before revising that statement. "That's what makes this building a little bit in the upper class."
At five open houses Sunday, all of which had more bathrooms than bedrooms, the story was consistent: One can never have too many loos.
In the condo at 62 West 62nd, prospective buyer Carol Sierra, 53, a physician who lives in the building, said she would not convert the apartment to three bedrooms. She would move in with her husband and 24-year-old son, so two bedrooms would be sufficient. But three bathrooms, for her, is a must.
"A nice kitchen and three bathrooms—that's what I'm looking for," Ms. Sierra said.
Her motives were magnanimous.
"Two men need their own bathrooms," she said. "Men take their time. People say it's women who take forever, but in my house it's the men."
Ms. Sierra and Ms. Young shared a knowing laugh.
In the master bedroom, Ms. Young pointed out the spacious closet, which on Sunday contained rows of women's designer shoes: Jimmy Choo, Manolo Blahnik, Christian Louboutin. In the second bedroom, soccer balls rested on the window ledge, video game cartridges crowded the television and a Time for Kids map of the U.S. Electoral College hung on the door. "It's a good size," Ms. Young said. "The kid is lucky."
Ms. Sierra said that when she retires, she will move to Florida and leave her apartment—this one, if she buys it—to her son. Three bathrooms and all. "When my son takes over, he's going to have a nice space," she said.
Across the park, a $599,000 three-floor co-op at 18 East 63rd Street has one bedroom and two full bathrooms, on the top and bottom floors.
"It's convenient with it being three floors," broker Nancy Love said. "You don't have to go up two or down two."
The top level, the apartment's "bedroom," is an exposed, lofted space with a bed, which dominates the area. The top-floor bathroom, though, is comparatively luxurious. A heavy sliding door opens onto a cozy but pleasant room, with a wall of clouded glass tiles.
Farther uptown, in a $699,000 condo at 300 East 93rd Street, broker Rajneesh Garg pointed out the one-bedroom apartment's two full bathrooms. "At this price point for a condo you won't find much on the Upper East Side with two full baths," he said. "It's always nice to have two bathrooms if you have guests. They don't have to go through your bedroom."
He added that the apartment's dining room could be converted into a second bedroom. According to the floor plan, the space is 10 by 10 feet, with windows cutting out two of the room's corners. The entire apartment is 736 square feet.
On Sunday, the plumbing in the "guest" bathroom was functional. But brown water ran from the sink's faucet.
A $3.45 million, 1,700-square-foot condo in 400 East 67th Street has two bedrooms and three bathrooms. In the lobby, two prospective buyers said they had looked at a one-bedroom, one-and-a-half-bathroom apartment in the building. Howard, 55, and his wife, 41, are attracted to extra bathrooms.
"It's a very good advantage," the wife said, refusing to elaborate.
A notice in the lobby of 359 East 68th Street read, "We regret that there will be no water Monday 7/19/10 due to emergency repairs. From 9AM to 11AM. We apologize for the inconvenience." But the apartments have no shortage of bathrooms. A $749,000 one-bedroom condo has two full ones. A double baby stroller sat in the living room Sunday, and two cribs, along with three skateboards, rested in the bedroom. Why the extra bathroom?
"Guests," broker Milton Elbogen said. "You don't want them traipsing through your bedroom."
He said he meant not only overnight guests but dinner guests as well—even though the "guest" bathroom has a shower.
Outside the building, Danny Lee, 38, said he wanted to buy a place for his parents, who accompanied him to the open house.
"Two bathrooms is nice, but it's not necessary," he said. "What I really like is the balcony."