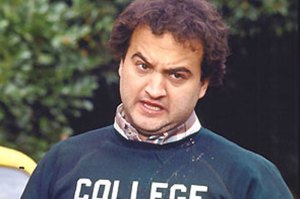 There have been many news stories analyzing Mayor Bloomberg's love for his iPad in recent weeks, but he offered a new glimpse into his relationship with the device today when he slipped in a completely unsolicited plug during a speech at Dartmouth College.
School newspaper The Dartmouth liveblogged the mayor's speech, part of the college's presidential lecture series, and made a point of quoting one of his opening jokes. Speaking about how honored he was to be on campus, Bloomberg joked, "If you think I don't have Animal House on my iPad, you are wrong."
The movie was co-written by Chris Miller, a Dartmouth '63, and is supposedly based on his fraternity experiences as an undergrad.
Reports vary but the mayor was then said to have filled his cheeks with water from a glass near the lectern, slapped them to expel liquid all over Dartmouth President James Kim and proclaimed he was a zit.