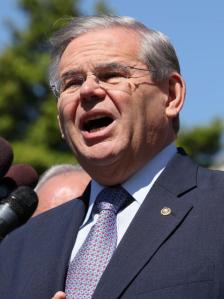 New Jersey Senator Bob Menendez, who chairs the Democratic Senatorial Campaign Committee, doesn't think Democrats have lost the support of Wall Street–despite reports that the party will report a less-than-stellar quarter, in part because it's alienated the deep pockets of New York's financial services community.
"The reality is that we have support from Wall Street," Menendez told me after a joint press conference with Chuck Schumer, who happens to be his predecessor at the DSCC.
"It certainly isn't as robust as it was in the past. I think part of that is the economy. Part of that is looking to see how financial services reform finally turns out.
"And I'm sure there's a universe that just doesn't believe–despite the excesses–that there should have been any reform at all. But we believe the American people believe in reform. And we also believe at the end of the day that it's incredibly important to ensure that investors and shareholders and consumers have transparency, and that's what we're trying to accomplish."