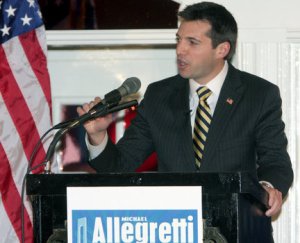 Michael Allegretti, reached by phone as he was making a campaign swing in the Tottenville area of Staten Island, said that he was unconcerned that the McMahon campaign seemed more concerned with his G.O.P. primary opponent than with him, saying simply, "We are very confident where we are right now."
Yesterday, The Observer published a story about how the McMahon campaign had compiled opposition reseach of Jewish donors to the campaign of Mike Grimm, who is battling Allegretti for the G.O.P. nod.
Asked if that meant that McMahon was scared of a general election against Grimm, Allegretti responded, "Mike McMahon should simply be scared of his record."
Allegretti received the nomination of both the Staten Island and Brooklyn Republican parties, but he has lagged in fundraising, garnering only $90,000 in the last period, compared to over $200,000 that Grimm raised. Allegretti's family owns Bayside Fuel Oil Corporation, which was once one of the city's largest private business, and observers have been expecting him to write himself a big check.
Allegretti said that he had not considered doing that, and added that "my support is profoundly confident and profoundly deep."
And on a day where everybody from the state G.O.P to the Republican Jewish Coalition took shots at McMahon, Allegretti demurred.
"I am not going to exploit this issue for my own political gain."
dfreedlander@observer.com