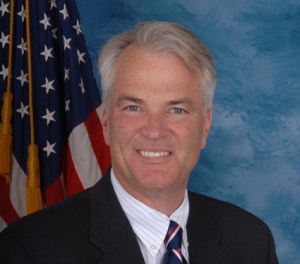 Walking back from watching President Obama sign the financial reform bill this morning–where he sat in the second row, and got a quick handshake from the president–Congressman Michael McMahon called The Observer to talk about the bill-signing.
"I think the general mood was this bill struck a pretty fair balance between making sure what happened in September 2008 never happens again, but at the same time making sure this very important financial services industry is able to remain vibrant and flourish and be competitive with its world rivals," McMahon said.
He rattled off his colleagues in the New York delegation who were among the two dozen or so members of Congress in attendance: Carolyn Maloney, Gregory Meeks, Joe Crowley, Nydia Velazquez, Gary Ackerman, and Senator Kirsten Gillibrand. (A spokesman for Chuck Schumer said the senior senator had a scheduling conflict.)
"I think we had a strong presence in fighting for a balanced approach, and that was reflected in the fact that we were invited to the bill signing," said McMahon, who was among the most vocal opponents to Arkansas Senator Blanche Lincoln's provision to bar derivatives trading. "There is an overall sense that we made it much better than it started out. I think its original form was actually threatening to the financial services industry in New York. But I think we were able to strike a pretty darn good balance. I think we all felt it wasn't perfect, but it was a heckuva lot better than it was."
After pausing to order a turkey with provolone on toast, the congressman also said he especially liked the president's rhetoric this morning.
"He said something today that I've never heard him say before. And that is: the inarguable connection between Wall Street and Main Street," McMahon said. "Small business people across the country know that credit, access to financial markets, are critical to their business and they realize Wall Street is the engine. That's a message we have to keep bringing, but I think it's out there and people get it."
McMahon said the new tone was a far cry from the oppositional Wall Street-versus-Main Street that's dominated the narrative for most of his term.
"Since the minute I got here in 2009, we were hit with that rhetoric square in the face," said McMahon, citing the proposed 90 percent tax on AIG bonuses (which McMahon voted against). "Honestly, there was still even a little bit of it today, but much less. And today was that message of connection. I still don't like the rhetoric. I think it's hurtful, but I'm happy we hear less of it."
So, how will the bill play in the mid-terms?
"I think that the economy still has to come back and as long as that's the case, incumbents will face challenges," he said. "But I think we're slowly getting things going in the right direction."