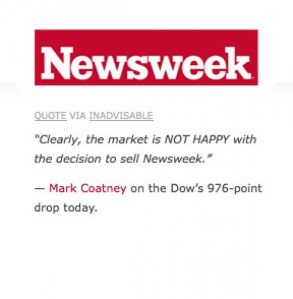 Mark Coatney, the popular and occasionally acerbic author behind the Newsweek Tumblr page, announced that he's leaving the magazine for a job at … Tumblr.
Here is his departure note. He said his new job "will be to take the lessons I've learned at Newsweek and bring them to other media outlets. The mission is to show how this platform can be key to connecting journalists and readers, making the process more engaging and conversational."
Plenty of media outlets are now trying out Tumblr. Mr. Coatney's page has been, by far, the most popular.
Our man Zeke Turner talked to Mr. Coatney a couple of months ago.