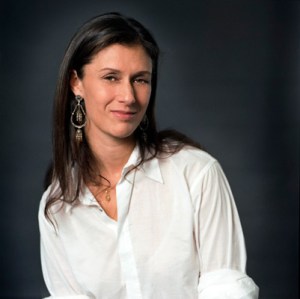 The Times and The Journal have been warring on several fronts—in New York, with business and national and political coverage—and now it appears we can add the luxury magazine business firmly to the mix.
Let's call it the new Elle vs. Vogue! Maybe that's wishful thinking from a media reporter, but The Journal's announcement that it appointed Deborah Needleman as editor of WSJ. (and a redeveloped Saturday lifestyle section that will be introduced later this year) on Tuesday means that both T Magazine and WSJ. will have new editors this fall, and both of them come from a magazine background—specifically, 4 Times Square—with good reputations and a stockpile of goodwill in the bank. The match-up of personalities is intriguing, allowing the luxury and fashion worlds to follow two familiar players: Ms. Needleman, a veteran of the much beloved late Domino magazine, held her last day job at 4 Times Square; Sally Singer, The Times' new editor of T, comes from a celebrated tenure as the features and fashion news editor at Vogue at Condé Nast.
The Journal traditionally hasn't been interested in attracting the sort of talent that is cultivated at Condé Nast, but the fact that it is able to draw in a name like Ms. Needleman suggests how far it's come-and how it is inching into The Times' wheelhouse.
People at The Journal will swear to you that Ms. Needleman's hiring was not in response to The Times' hiring of Ms. Singer, but the timing is curious. After The Times stunned magazine insiders by announcing they had poached Ms. Singer away in early June, it took only nine days for WSJ. editor Tina Gaudoin to announce that she was departing (she said she was leaving for personal reasons). And now, roughly six weeks later, The Journal has hired Ms. Needleman in a move that suggests that Rupert Murdoch and Journal editor Robert Thomson were amping up the glossy's firepower.
Let the war begin! But for now, let's take the high road. "I do think they are very different publications," said Ms. Needleman on Tuesday while she was en route to Jersey City for a sales pitch for the Saturday section. "I think they have different audiences and different goals. I mean, obviously, the common goal is market share, so I'm not saying there's no competition, but I think they are very different products and very different magazines, is my guess"
There are certainly differences between the two magazines. For one, Ms. Singer gets to take over the more established property. T. Magazine is published 15 times a year, and has been a cash cow for the company. Even in leaner times, it remains profitable, said a Times spokeswoman.
Meanwhile, WSJ. isn't even two years old yet; it publishes six times a year; and it's unclear whether it comes anywhere close to turning a profit.
But the news of Ms. Needleman's hiring was definitely a shot in the arm at The Journal on Tuesday afternoon. One Journal source said that the rank-and-file in the newsroom rarely spoke about WSJ. under Ms. Gaudoin, but that Ms. Needleman was a topic among the more culturally minded Journal staffers (though, naturally, magazines at newspapers are usually their own little fiefdoms).
In addition to her responsibilities at WSJ., Ms. Needleman will be the editor for the new Saturday lifestyle section, a section that is already profitable for The Journal, which is a trend that Dow Jones expects to continue. Since Domino folded last January, Ms. Needleman has been doing consulting work for The Journal, contributing to an illustrated decorating book with the artist Virginia Johnson for the Crown imprint Clarkson Potter, and developing a Web venture with Huffington Post co-founder Ken Lerer.
She told us back in March that "it's a commerce site—with a Domino-like sensibility—that makes it easy and pleasurable to decorate and shop for a home."
Ms. Needleman was also in negotiations with Condé Nast CEO Chuck Townsend about potentially taking over the Domino name for her Web site. But she decided, ultimately, not to make the jump into the Web business.
"I was busily kind of working on that, but I had some reservations about the business model and also quite frankly about what my life would be starting up a business on my own," said Ms. Needleman.
The idea of running a website essentially by herself, she said, was "overwhelming."
Now she gets back to work in a magazine world where she'll have a much smaller staff than she was used to at Condé Nast.
"It's a luxury lifestyle magazine," said Ms. Needleman, speaking of WSJ. "And that's exactly what appeals to me. I feel like my true subject is lifestyle. Getting the best people to write and photograph and digest that information for the reader is what I want to do. In that way, it's not that different from what I was before. It's a different audience, but it's still living. It's still fashion, food, decoration, it's lifestyle."
Ms. Needleman said that the consulting work evolved very nicely into this bigger role-and she's awfully excited.
"I do really love crafting a great magazine," she said. "As corny as it sounds, I really love serving readers. Some people like to sing and dance, and I like to package content. I'm really looking forward to it. The Journal has a dream reader that every editor hopes for-smart, successful, affluent and busy. It is terribly exciting."
Both Ms. Singer and Ms. Needleman will be in full swing in their assignments in September. We'll be watching.