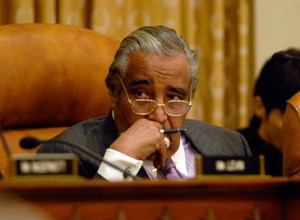 A new poll out by Public Policy Polling portends trouble for embattled Harlem congressman Charlie Rangel.
The poll shows Rangel getting less than 40 percent of the vote in a five-way race for the Democratic nomination, with challengers Adam Clayton Powell IV garnering 21 percent, Joyce Johnson at 7 percent, Jonathan Tasini at 6 percent and Vince Morgan at 2 percent.
Perhaps more worrisome for Rangel: slightly under 50 percent of voters in his district approve of his job performance.
Political consultant Michael Oliva, who is working for Joyce Johnson, argued (unsurprisingly) that the numbers heralded well for his candidate, claiming that Rangel and Powell have both hit their polling ceilings. Johnson has lost before in runs for Assembly and City Council, but Oliva said this only increased her name recognition on the vote-rich Upper West Side.
"The problem with the other candidates is that people don't know them like they know Rangel," he said. "The minute mailers start to hit and the news media starts to pay attention and people know what their options are, this is going to be a closer race than anybody thought it would be."
In an article in The Hill, Hunter College Political Scientist Ken Sherrill questioned the poll's methodology and said some of the questions seemed slanted, and the sampling appeared weighted toward older and female voters.
In an interview, Rangel campaign spokesman Bob Liff mostly declined to comment on somebody else's poll, only saying, "We are going to trust the wisdom of the voters in the 15th congressional district."