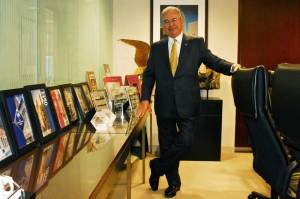 Along with Neil Siderow, Murray Hill Properties co-founder Norman Sturner has weathered nearly 40 years in the real estate industry, both during its ups and its downs. By focusing on Manhattan properties and creating four high-net-worth real estate funds, the 69-year-old mogul has managed to come out on top.
The Commercial Observer: In the past couple of years, Murray Hill Properties has grown in prominence. What do you attribute that heightened visibility to?
Mr. Sturner: After 40 years, I'm an adult. Neil [Siderow] and I built this business in 1971, and it's taken 40 years. About six years ago, we started several high-net-worth individual funds, and that allowed us to buy what you see up there on the wall. Up to that point we were doing either one-offs or limited partnerships with individuals. You can only get so big by using a single property with single investors, where, in contrast, once you get to starting a fund-and we're now running $265 million worth of high-net-worth individual funds-you really take off. We're fully subscribed, but only 50 percent invested in the last fund we did.
About a year ago you were quoted as saying that, when possible, you prefer not to rely on financing help? How is that even possible today?
The problem that myself and everybody else is having is 85 percent or 90 percent financing was not only doable, not only acceptable, but the investment hedge funds and the opportunity funds we dealt with made it a must. You buy a property for $100, and you put $90 of financing on it. And that's fine until the world turns over on its back, and now you're overleveraged, which is still fine. But now the property levels have gone down. Up until then, we had been doing 50 percent leverage. When we came into the business 40 years ago, we didn't understand leverage. We bought all cash because we didn't know we could get a mortgage.
You found initial success as a tax accountant selling mutual funds but recently were quoted as saying, somewhat disdainfully, that Wall Street merchants had turned real estate into a paper commodity. So what's your relationship with Wall Street?
My relationship with Wall Street is fine. You get addicted to putting up 10 percent cash and getting 300 percent returns. It's easy. When you look at what's happened to the marketplace, it always comes back. So you say, 'O.K., if I can't sell it this year I'll wait a year and sell it next year.' I mean, we have lived through '71 and '81 and '87 and '92 and, in fact, owned the annex to the Stock Exchange on 9/11. So we didn't sell Broad Street on 10/11. We sold it two years later-and we made a profit.
So it's not so much that I have any disdain for Wall Street, or anybody else, for that matter. It's just another valley in a succession of peaks. If you look at the New York Stock Exchange between 1930 and today, there's a lot of down markets, but every successive high only gets better. People forget not only how strong America is, but how strong New York City is. It's a unique place. It's an island with an island mentality. You have 17 square miles of businesses, districts and office buildings, and we've managed to put 500 million feet in that little amount of space.
You founded Murray Hill Properties in 1971, shortly before an epic recession. Could that kind of business start-up succeed today, during a recession like this one?
People do it every day. All they have to do is live for 40 years. But the answer is, of course. There are new businesses happening every day. Somebody once said in the 1920s [that] we ought to close the patent office because everything's already been invented. That's nonsense. The idea that in less than 100 years we've gone from riding a horse to landing on the moon? It's America. It's so strong.
You've lived in the Bronx, Brooklyn, Queens and Manhattan-so, in other words, you're a New Yorker through and through. So, from a sentimental perspective, is it ever difficult for you to unload a landmark property like the New York Stock Exchange?
If I ever had seller's remorse, it was one property: 450 Lexington Avenue. Other than that, no. We've bought and sold over 150 buildings in 40 years. When you do the arithmetic, it's only two or three buildings a year, because there were years we didn't buy. But, no, 450 Lex was a beauty. We did that with Westbrook, and it turned out extremely well.
Why do you think so highly of 450 Lex?
It's a trophy. It's brand new. It's just gorgeous.
Speaking of properties in your portfolio, what's the latest news at 1412 Broadway, where you recently completed recapitalization?
The reason you were waiting in the back room is because there were folks here for the second time from offshore-not domestic. We've just approved two leases. You have to be careful when you're in the midst of marketing a property that you don't do a lease that the new purchaser doesn't want. But both of them are in excess of $40 a foot, which is incredible for 1412 Broadway.
We're either going to take in a 49 percent partner and continue to owner-operate and maybe because of the marketplace, we'll have a longer horizon or a further look to the future. Or if they hit my price we'll take the money, return it to our investment partners and go to the next one. But as I suggested to the gentlemen who were here, it's so hard to find. We bid on 685 Third Avenue and we bid on 45 Lexington Avenue. They're hound's teeth.
You've attributed much of your success to your own 'stick-to-it-iveness,' a phrase you might as well have coined. Has that ability helped you during the recession?
I think it's a help in anything you do. You're not going to be able to print what I say, but when I put my teeth in somebody's tush, I hang on. I don't let go-sometimes to a fault. But I think 'stick-to-it-iveness' and the ability to keep your focus on what it is that you want is extremely important, and it doesn't matter whether you're a broker, an investment sales owner, a property owner or anyone. If you think you're right, do it. Don't let go. Do not go quietly into the night.
jsederstrom@observer.com