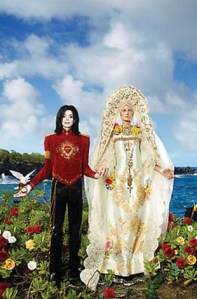 For years, David LaChapelle made his living and his reputation as a fashion photographer known for outlandish images of celebrities (and later, friends) like Paris Hilton and Pamela Anderson. Rising to the top of the magazine heap-he photographed everyone from Madonna and Eminem to Hillary Clinton and Elizabeth Taylor-he went on to direct surreal music videos, winning both VH1 awards and an A-list lifestyle. Not bad for a kid from Connecticut who got hooked on photography at age 6, he said, when he took a picture of his mother in a bikini and holding a martini glass on a balcony in Puerto Rico.
Then, five years ago, the artist, now 47, stepped back from commercial work, bought a farm in Hawaii and decided to focus on making art for galleries and museums. (A move that met with skepticism, snobbery-and a spate of sales and museum shows from Tel Aviv to Taipei.) Fresh off a worldwide tour of galleries, Mr. LaChapelle is back in town, opening "American Jesus" next week at Paul Kasmin Gallery in New York-and courting trouble.
Wildly ambitious, the new show offers monumental works about greed, war and corruption in the African gold trade, starring Naomi Campbell as Venus. Reviews in London and Los Angeles have been mixed, with the Financial Times writing, "These new political pictures don't bear examination." But other critics have applauded that Mr. LaChapelle is one of the few contemporary artists consistently tackling issues of religion and spirituality-even if that means turning Michael Jackson into a saint.
The New York Observer's Paul Laster recently caught up with the photographer to discuss the exhibition, his first New York solo outing in two years.
The Observer: The Kasmin show premieres The Rape of Africa, an artwork a year in the making, to a New York audience. The epic photograph riffs on Botticelli's masterpiece to tell a contemporary political tale about the gold trade in Africa. Why tackle this?
Mr. LaChapelle: I was interested in making a work about gold mining in Africa, which enslaves workers, and the false notion of security [gold generates]. By trying to insure our security by stockpiling gold, we're really bringing about our own demise. Africa is the cradle of civilization-Mother Africa. We're degrading our mother-raping our mother, in a sense. That's what the title references, while playing on the title of another well-known painting, The Rape of Europa.
Why cast Naomi Campbell as Botticelli's Venus?
I wanted a black woman to represent Africa. Botticelli painted Simonetta Vespucci, an aristocratic beauty of her day, as Venus, and when I considered who was the most famous black beauty of our time, Naomi immediately came to mind.
It's a glamorous image, given the political subject matter. What would you say to critics who might fault it as "style over substance"?
Beauty and glamour in art photography can sometimes be polarizing to people, but I use these things to attract viewers to the subject matter. Makeup and adornment have been around since civilization began. I don't see anything wrong with using them to draw people in to look at something that I want to say. There was one person who was offended by the glamorous depiction of Africa, and I asked him if he would have liked it better if she had a distended belly and blisters on her face. He said, 'I see your point.' If you present something ugly, people just turn their heads.
You're also exhibiting pictures of Michael Jackson, and you knew him. Did he contribute ideas for the pictures?
In everything I do, there is a collaborative process, but I [was the one who] wanted to depict him as a saint.
Why the biblical poses?
I really believe he was persecuted and a modern-day martyr. Now that the smoke is clearing, everyone is saying, 'Oh, wow, that was treated badly.' He loved children and spoke about seeing the face of God in them. For some reason, people took a lot of pleasure in watching his demise. These pictures represent the real Michael Jackson to me. He was pure and innocent.
Over the past decade, you've shown regularly in galleries and museums, and now you're said to have completely stopped making work for publications in favor of fine art. How did that happen?
I started out showing in galleries in the 1980s in New York, which led to me working for Interview and then other magazines. I just wanted to get paid for photography in order to live. Working with publications for more than 20 years, I learned how to communicate. I played with imagery and commented on issues with a sense of humor. After I made Rize, a documentary film about inner-city kids in L.A., and my third book came out on fashion and celebrity, I felt that I was on top of my game, but that my life was out of balance. I bought a run-down farm in Maui and just walked away. Soon after, I got a call from a gallery in Berlin asking me to show new work-whatever I wanted to make. I made the pictures of people suspended in water, which led to more gallery and museum shows.
But, if anything, your commercial and editorial work was more offbeat and surreal than your fine-art work. Do you consider your present-day pursuits more serious?
Many of my previous pictures were just funny or about surreal situations, but as I got older, I wanted to talk about more serious things, while still making them beautiful. When you're given a chance to show in a gallery, you should have something to say. Today I make pictures for galleries, and they wind up in magazines. It's a reversal of what used to happen.
David LaChapelle's "American Jesus" opens July 13 at the Paul Kasmin Gallery, 293 10th Avenue, and runs through Sept. 18.