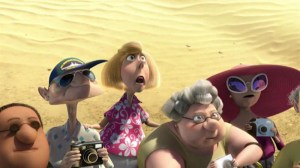 With temperatures breaking into the high 80s this weekend — cold front! — you might think of avoiding movie theaters to enjoy a sweltering afternoon outside. Mistake. Head to the AC and bring with you this handy guide to the new releases.
Despicable Me
What's the story: Otherwise known as the 3D animated movie that isn't Toy Story 3. Or Shrek Forever After. Universal's entry into the Summer of Animation feels a bit mysterious, if only because the trailers remain fairly vague. But here are the basics: Gru (voiced by Steve Carell) is a supervillain who gets thwarted in his attempt to steal the moon when three orphaned girls come into his life. Touching life lessons and hilarious 3D effects ensue. Jason Segal, Russell Brand, Will Arnett and Julie Andrews provide supporting voice work. If you have kids – and don't feel like seeing Toy Story 3 for a fifth time – this is your winner.
Who should see it: Buzz and Woody.
Predators
What's the story: Have you been sitting there waiting for a sequel worthy of the 1987 endlessly quotable Arnold Schwarzenegger action romp Predator to hit theaters (sample dialogue: "Get to the chopper!")? Well good news! Producer Robert Rodriguez and director Nimrod Antal — real name, fyi — bring you Predators, which despite the presence of three other Predator sequels appears to be the heir apparent to the original film. Adrien Brody leads a motley crew — Topher Grace, Alice Braga, Laurence Fishburne — as a group of criminals and hardened military types try to outwit a bunch of massive alien monsters who can become invisible at any moment. The reviews have been solid — calling Predators a midnight movie classic in the making. Hey, Brody didn't win that Oscar for nothing, right?
Who should see it: Arnold.
The Kids Are All Right
What's the story: The best reviewed movie of the summer — non-Toy Story 3 and Inception division. Lisa Cholodenko's Sundance favorite has found near unanimous critical approval — our Rex Reed gave it three eyeballs — and it seems to be the one-stop-shop for all your summertime Academy Award withdrawals. To wit: Annette Bening and Julianne Moore star as a lesbian couple raising two children (Mia Wasikowska, Josh Hutcherson) who have their life upturned when their sperm donating father (Mark Ruffalo) comes back into the picture. Expect new age family values and a whole lot of bathed-in-sunlight California vistas.
Who should see it: People who already saw Cyrus.