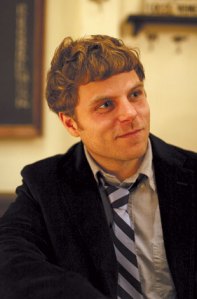 As a teenager, Taylor Plimpton went clubbing in New York when he returned home to East 72nd Street on breaks from boarding school.
"Back then, one of the first clubs I went to was Limelight, which was just a totally crazy scene," said Mr. Plimpton, recalling his introduction to nightlife in the early 90s. "Like, transvestites in Santa Claus suits. It was totally out of control. Good times."
It was after 9 p.m. on a Thursday in early July, at a place called the Park, a bar and restaurant the size of an auditorium on 10th Avenue. Mr. Plimpton was explaining why he has written a memoir about going out to nightclubs and why, considering that he conceived the idea when he was 24 years old, it is only coming out now, when he is 34.
"Really, it was my friend Zoo who had the idea," he said. (Zoo is Taylor's sidekick in the book who feeds him medicinal shots of Dewar's.) "We went out a lot back in the day and did our thing. In his mind, if I wrote the quintessential book about New York nightlife, then we'd get in everywhere, no problem. Like the Playboy Mansion…and Mark Twain said, 'Write what you know,' and that was something I knew."
Mr. Plimpton was dressed in jeans, a pin-striped gray blazer and a blue polka-dotted tie done into a double Windsor. He has his father's deep-set eyes and the childlike grin, topped off with matted-down blond curls.
"It didn't happen as quickly as we had planned, and now that it's finally coming out, we don't even go out that much," Mr. Plimpton continued. "There was a whole process of transcribing notes and organizing them into chapters. There was a whole process to the creation of it. Going out and raging till 4 in the morning is actually not conducive to waking up and getting to work in the morning. … By the time it sold, it was in pretty good shape, because I edited the shit out of it."
Notes From the Night: A Life After Dark, out later this month from Crown, is a memoir told as a composite of all the nights Mr. Plimpton has spent out at places like Lotus, Lot 61, Bungalow 8 and Marquee.
Like other city kids, Mr. Plimpton, born in Southampton, went places he shouldn't have been before it was legal for him to be there. As a seventh grader at St. Bernard's on Upper Fifth, Mr. Plimpton used to sneak drinks from his parents' parties. When home on breaks from St. Paul's, the boarding school in New Hampshire, he checked out Tunnel and Life and the Upper East Side's anonymous Irish bars. On another break from Reed College, he discovered Moomba, the club that epitomized the '90s New York of Leonardo DiCaprio and VIP rooms. And it was after college, when Mr. Plimpton was working as an assistant at Men's Journal, that he became a regular at the clubs along Manhattan's West Side.
To talk about Taylor's upbringing is to talk about George Plimpton the father and George Plimpton the husband to his first wife, Taylor's mother, Freddy Espy — both roles secondary to George Plimpton the editor. In George Being George, an oral biography of Mr. Plimpton published in 2008, friends, rivals and former lovers describe how fiercely Plimpton resisted marriage, how much he resented Freddy for making him a husband, how, despite being married, he was still mostly available to women and how Freddy eventually began to drink. (Taylor reviewed the book for The Rumpus, writing, "I remember feeling sick with a kind of envy of the kids at the Review, many of whom he treated a lot more like his children than he ever did me…(I was his real son, you know? Where was the love, the time, that spotlight of attention for me?).")
The family home at 541 East 72nd Street was not just where Mr. Plimpton and his older sister, Medora (now a nurse and mother of two in Vermont), grew up, but where The Paris Review's offices were situated on the bottom floor; where Leonard Bernstein gave Mr. Plimpton big slobbery kisses and, as one story in the book goes, once slipped into Mr. Plimpton's bed, only to be pulled out by Jay McInerney; where George began seeing Sarah Dudley, who became his second wife; and where Ms. Dudley Plimpton, now Taylor's stepmother, will throw him his book party later this month.
"My sisters have been raised very differently," Mr. Plimpton said of the 15-year-old twins from his father's second marriage. "My stepmom is not laissez faire. In my teenage years, I could get away with all sorts of crazy shit and they definitely can't, and they seem super-innocent as a result."
Notes From the Night is less a narrative of events with characters and a plot than a literal collection of notes, an internal monologue written almost like instructions on how Mr. Plimpton and his friends maneuver nightclubs. There are sections on surviving hangovers ("grilled cheeses, fries, and bubbling, cold Cokes"), on convincing doormen to let you in ("for me that means being a gentleman — and beyond that, fuck it"), on dancing ("I'm a complete idiot on the dance floor"), on women ("Thank God for all the infinite varieties"). There are friends named Fatdog, Hobbes, Stibbs, Tako and G; Mr. Plimpton goes by Tap. There are larger questions, too, which appear to propel the book: Who are we? Where are we? What are we doing here? At first there are no concrete answers. Then: No one, nowhere, nothing. And finally: It doesn't matter.
The book seems to be about enjoying the process, the hunt for something in those clubs, though we never quite learn what that is.
"The whole idea sounded a little nebulous to me," Jay McInerney, who blurbed the book, told The Observer. "I knew for years he was writing a book about nightlife. But I was impressed when I finally read it.
"It must be difficult for Taylor," he added. "His dad was a very prominent writer, and it can't be easy to write in that kind of shadow. Just the fact that this has come into existence, to some extent, he's gotten past that. It could be real daunting. I wouldn't necessarily want my son to become a writer."
A galley of the book also went to Terry McDonnell, editor of Sports Illustrated and an old friend of Taylor's father, who said he enjoyed it. "Taylor is doing his own thing," he said. "I don't think George would have written about that stuff in quite the same way. George would put himself in a situation where he was clearly a fish out of water. It was in that context that he was so effective. Taylor is not a fish out of water."
Back at the Park, a little after 10 p.m., the clientele began to appear younger, louder, more intoxicated. A wobbly young man accidentally backed into our table and slurred an apology. "The world I'm describing is not at all what's going on now in my life," Mr. Plimpton said, looking around. "I'm older and my body just can't take the abuse anymore. And I have a long-term girlfriend so, as far as a man's impetus for going out in the night, it takes away that sense of infinite possibility." (Mr. Plimpton and his girlfriend, an actress, live on the Upper West Side.)
Mr. Plimpton is currently working on a book of essays about his father. Asked what their relationship was like, that grin, strained and a little goofy, spread across his face again. "I think I'm still figuring that out."
ialeksander@observer.com