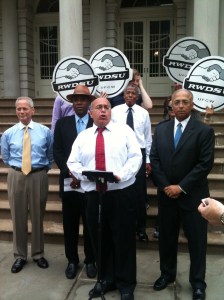 State Senator Bill Perkins received the endorsement today of the last two men to run against Mike Bloomberg–Fernando Ferrer and Bill Thompson–in his re-election campaign against Basil Smilke.
And Perkins is running against City Hall as well, in a sense, since he is opposed by many in the charter school movement, which has received much support from the Mayor.
But Perkins insisted that his race was not a proxy battle between the United Federation of Teachers and charter advocates, or between him and and Bloomberg.
"I think it's more of a litmus test on whether the people of this state are interested in a progressive, reform minded state senator that works hard, that is very visible and very active and has delivered on their behalf. I don't see myself as running against Michael Bloomberg or his ideas, I see myself as running for a constituency that has shared with me very intimately what it is they would like me to do," he said. "[If I win] my victory then I think sends a message that you can stand up for what your community believes in and deliver on their behalf and to hell with everybody else."
He added that he was not against charter schools, per se, but rather against how they are regulated.
"Clearly the charter movement is playing a role in this candidacy against me. I have taken positions that call for transparency and accountability," he said. "Some people don't like transparency and accountability."
Perhaps because Village Voice staff writer Tom Robbins was present, Perkins also paid tribute to longtime Voice correspondent Jack Newfield, a crusading journalist who died in 2004.
"There is another giant that is not here who I must acknowledge. … Some of you may know that Jack Newfield was very much a voice in this city … brought to the forefront for years and years and years the tragedy of lead paint poisoning in our communities. I just always want to remember him, even though he is no longer with us, for the role that he played, the support that he gave in helping us to deal with that very, very critical problem."
I am not sure I have ever seen a politician speak this warmly of a journalist, living or dead. And for what it is worth, Newfield's memoir, Somebody's Gotta Tell It, is one of the great books about New York journalism.