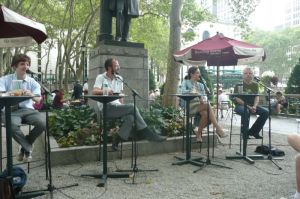 As the authors Sloane Crosley, Larry Doyle, Josh Kilmer-Purcell and Simon Rich sat perched on tall green chairs in front of a full audience in Bryant Park Wednesday afternoon, the host of the event, comedian Tom Shillue, laid down some ground rules.
After each of the authors read from their respective books there would be a question and answer session, he said. But there were questions the audience "might want to avoid." The questions included: Where do you get your ideas? How do you get published? When are you quitting your day job?
When Mr. Shillue hit that last question he said, "Sloane told me that one. The funny thing is her boss is always asking her that." In addition to being the author of two collections of essays, Ms. Crosley is deputy director of publicity for Vintage/Anchor.
Laughs abounded and pigeons circled overhead as the four authors read selections from their books and answered questions as part of the FUNny Writers panel at the Bryant Park reading room .
Mr. Kilmer-Purcell read a selection about meeting Martha Stewart from his book The Bucolic Plague: How Two Manhattanites Became Gentlemen Farmers: An Unconventional Memoir. "I have sort of a sordid past. So my first memoir was about being a drag queen and drinking and drugs and not really Martha's world," he said before starting to read. "She's not here is she?"
Before Mr. Rich read from his first book Ant Farm: And Other Desperate Situations, he thanked the crowd.
"Thanks to all of you for giving up a summer afternoon to listen to writers talk about themselves, which is probably the most boring thing in the world," he said. "If it gets too unbearable there's like a pretty decent chess game going on behind me, which I've been eyeing. It's pretty good. So if this gets terrible just go for it."
After the readings, Mr. Shillue asked some questions. He turned to Mr. Rich, who was wearing grey pants, a dress shirt with a tie and sneakers.
"I will first say that I think you are kind of a genius, all right?" Mr. Shillue said. "But I wonder if you know what the heck you're doing." He compared reading Mr. Rich's work to a moment when Salieri looks at a young Mozart in Amadeus. "Because I didn't know what I was doing when I was your age so I'm wondering if you think you know what you are doing or if it's just kind of flowing out of you," Mr. Shillue added.
Just as Mr. Rich was about to answer, Mr. Kilmer-Purcell jumped in: "Wait, he's got a butterfly on his shoulder."
A butterfly had indeed landed on Mr. Rich's shoulder. "It's like the cover of the New Yorker. How much more credibility do you want?" Mr. Rich asked.
Mr. Shillue asked Mr. Rich if he is tired of people asking him about his age. "I actually am a 26-year-old, fully-grown man despite my physical appearance," said Mr. Rich, adding that people will probably stop asking when he is able to grow facial hair.
Afterwards, audience members lined up to get books signed. One woman approached Ms. Crosley to get her book signed, but had an unusual question for the writer, who was dressed in a printed dress, a jean jacket and beige, peep-toe heels. The woman, who looked to be in her 50s, had bird poop stains on her khakis. She asked Ms. Crosely if she knew how to get them out.
"I said, 'why did you ask me that?'" Ms. Crosley told the Transom afterwards. "And she said both a flattering and dangerous thing…She said, 'Well I figure you live here' and I thought, 'Well all these guys live here.' Maybe it's because I'm the one woman…"
Ms. Crosley's answer to the pigeon poo question? Seltzer.