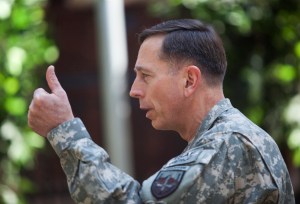 Rolling Stone owned the media world for one week in June, when the magazine published Michael Hastings' profile of General Stanley McChrystal. The piece instantly became national news when it hit the web on Tuesday, and by Wednesday General McChrystal was in President Obama's office tendering his resignation.
We've learned that Mr. Hastings originally shopped the story to GQ, where he is a contributor, but the magazine passed. It could have been theirs!
"We already had another writer trying to get McCrystal, and couldn't assign both stories," GQ editor Jim Nelson wrote in an email to the Media Mob. The June issue of GQ ran with a cover story about model Miranda Kerr.
"He didn't have the piece when we turned it in. He had an idea. He didn't have McChrystal," a spokeswoman for the magazine told us over the phone. "He had the idea of doing the piece, so we turned it down without having an interview with McChrystal."
But the idea was picked up by Rolling Stone and Mr. Hastings ultimately got extensive access to the general and his staff. "I didn't think I was going to get any access at all," Mr. Hastings told Newsweek, where he is also a contributor. "It's one of those strange journalistic twists. They said yes, come on over to Paris to spend a couple days with us."
The story was a huge success for Rolling Stone online, bringing 2.2 million unique visitors in the first two days. On average, Rolling Stone attracts 1.6 million uniques montly. A spokeswoman for Rolling Stone said that newsstand circulation for the June 22 issue is not yet available becuase the issue is still on newsstands. The story has attracted 8 million page views to date
"Yeah, it still hurts," Mr. Nelson wrote in an email. "But we're really happy for Mike," he added. "Not so happy for McCrystal."
zturner@observer.com