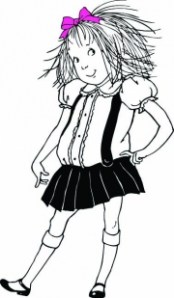 Last summer, the Plaza introduced special party packages devoted to storybook heroine Eloise; this summer, they've gone one better and created an Eloise theme park. Or, rather, a theme suite, as envisioned by Betsy Johnson. According to the Village Voice:
Johnson, known for bold, eccentric, and oft wacky clothing designs, "tweaked her style" to the setting of a child's dream room and put together just the floor-to-ceiling black-and-pink multi-patterned space to have adults running for a Buddhist monastery, or the dentist….

The room is $995 per night, $2,045 if you add the adjoining suite for parents.
It is violently pink and available starting today.