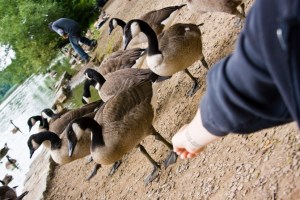 Tomorrow, starting at 10 a.m., the Parks Department will host its 63rd annual Macy's Fishing Contest at the Lake in Prospect Park. The department's chipper new mascot, Pearl the Squirrel, is expected to attend. But for the first time in recent memory, there will be no geese. That's because, as everyone who frequents Prospect Park must know by now, the greensward's hundreds of geese were rounded up under cover of early morning and gassed.
It happened Thursday , before the park got busy, and the news first appeared on the front page of The Times this morning. That the city would allow the USDA to creep into the park and cull the birds with nary a protest and certainly no public discussion is a questionable PR strategy. Along with free summer concerts and the Long Meadow, the geese were one of the delights of visiting Prospect Park—for kids, bird-lovers, and anthropomorphizers alike (I include myself in the latter).
Anyone who doubts the geese's popularity need only note the virality of the recent Times story about "Sticky," the goose whose neck was pierced by an arrow, or the recent stories in the Brooklyn Paper about animals turning up dead near the Prospect Park Lake.
And it didn't have to be this way.
In early June, Dave Avrin, the director of Gateway National Park in Queens, earned himself an angry editorial in the Daily News when he, unlike the city, resisted the federal government's efforts to cull the geese who live in his park.
"Our mission is to protect and preserve wildlife—that's a law—and it isn't a given that the removal of the geese is necessary to protect the flying public," Mr. Avrin told the AP. This, even though the park is much closer to JFK Airport than Prospect Park.
The geese culling frenzy stems, of course, from the January 15 crash landing of a U.S. Airways flight in the Hudson River after geese were sucked into the plane's engines. Remember? This was the Miracle on the Hudson, in which no one died. According to the same AP article, which cited FAA stats, between 1990 and 2008, there were just 11 civilian deaths resulting from about 1,200 bird-plane collisions in the U.S., but the guilty birds were "not necessarily geese."
Forgive us for saying so, but this strikes us as overkill.