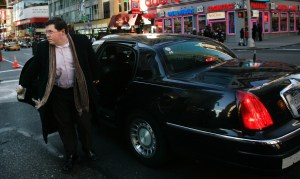 Alex Pasternack likes to share. He can't help it.
"As much as it seems contrary to the kind of private ownership society that we've built, sharing is an impulse that we all… share. It's something that's been a part of our behavior since we lived on the savanna."
Mr. Pasternack, 27, is part of a team that's developed a new application for the iPhone called Weeels, designed to facilitate cab-sharing. The process is simple: Give the app your location and destination, and it matches you with others hoping to travel in the same direction. It calls a livery cab for you, gives you an ETA (usually about ten minutes) and pre-negotiates a price.
But its implementation is more complicated. The team developing Weeels talks about it like some utopian solution to urban transit woes, and in some ways it might be. But there's one major hurdle, one that has haunted many a social media start-up: in order for the service to really work, enough people have to start using it all at once. The hard part is convincing people to try the app and stick with it before that critical mass of users is in place.
Weeels owes its existence to a trip its creator, David Mahfouda, took on the Trans-Siberian railroad. He said he was "taken by how a structure like an extensive rail could be incredibly healthy for any society." Inspired, Mr. Mahfouda, now 27, started thinking of ways to improve urban transportation back home. His friends soon jumped on board.
"In some ways Weeels is like the 2.0 of public transportation," Mr. Pasternack said.
The team, a group of friends who first met as undergraduates at Harvard, has based their operation in Brooklyn, where the subway system is not as extensive as in Manhattan. They've signed a contract with Eastern Car Service, a Park Slope livery cab company, and they're working on contracts with other livery services. Weeels' competitors include an app called Fare/Share, but according to Daniel Luxemburg, 25, who joined the Weeels team at the beginning of this year, Fare/Share isn't nearly as handy: It doesn't actually call a cab.
"Weeels is the only one where you download the app and you press the buttons and a cab comes to get you," he said.
In that regard, the app can be useful even before it becomes popular-especially if, for some reason, users have difficulty hailing a cab in the conventional way.
"What's nice about Weeels is that it's actually functional in advance of building up a critical mass," Mr. Mahfouda said. "You get a pre-arranged fare, it's a good fare, and you don't have to worry about how long it's going to take for your car to show up."
But for Weeels to achieve its full potential, he said, "it requires a very extensive usership."
The team has been handing out lots of flyers. They also have Twitter account, which, as of this writing, has 83 followers. Mr. Pasternack said the Weeels team has tried to model its publicity campaign after that of the social networking platform Foursquare, which advertised at 2009's South by Southwest music festival in Austin, Texas. "It depends on a thing starting and emanating out of a certain community in a geographic area," Mr. Pasternack said.
They're hoping that area is Brooklyn. The Weeels team set up kiosks at the Celebrate Brooklyn and Siren music festivals. Mr. Mahfouda said they've focused on "places where there are already a high number of people that need to get somewhere all at once."
When those places don't exist, Mr. Mahfouda will create them. He said the Weeels team has made partnerships with "venues," most of which are bars: "places where people would normally want to go." The venues help subsidize the cab fare for Weeels users (offering discounts as high as 50 percent), to encourage people to go there. This creates, Mr. Mahfouda said, "artificial densities."
He also said he's working on an algorithm that would allow Weeels users to hop in a cab that's already carrying someone else. Such a feature would increase "the time window during which sharing is possible."
The city, too, is trying to make cab-sharing catch on. The Taxi and Limousine Commission launched a program in March in which taxis behave like buses, carrying passengers along a pre-determined route. Compared to Weeels, it's primitive.
"It's not super convenient," Mr. Pasternack said.
The team has met with representatives from the Taxi and Limousine Commission and the city's Department of Transportation. Mr. Mahfouda said he's "eager" to speak with the mayor, as well.
"Bloomberg is trying to turn the city into the next Silicon Valley," Mr. Pasternack said. "Obviously there's an interest in technologies that help the city, that aren't just games or larks."