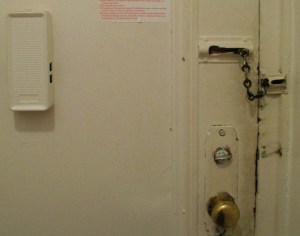 Bad news for college grads moving to Manhattan: You can't live here for under $1,300.
The Real Estate Group of New York's latest Manhattan Rental Market Report went live on Tuesday morning, and it shows rents in July ticking up. That's reassuring for landlords and worrisome for first-time renters. Your friends who entered the market last year may still be riding on the recession-era glut of incentives, such as a couple months of free rent, but chances are you won't be so lucky.
"As a rule, if you're living in Manhattan, it's not impossible, but it's very hard to find anything under $1,300 or $1,400," said Gus Waite, vice president of the rental division of The Real Estate Group New York, a local brokerage.
Asked whether it was possible to rent for a thousand dollars a month (or less!), Mr. Waite wasn't optimistic. "I wouldn't say there's no way. It's a tall order. People always say, 'My friend…' But your friend wasn't renting in July 2010."
Rents aren't actually that much higher than last year. Average rents are up 0.72 percent from June and up 3.62 percent from the same period last year. The average rent for a non-doorman studio is $2,077, while a doorman studio is $2,367 (last year: $1,958 and $2,337, respectively). A non-doorman one-bedroom is $2,713, while a doorman one-bedroom is $3,428 (last year: $2,590 and $3,276, respectively). It's cheaper to have a roommate, but not by much. A non-doorman two-bedroom is $3,680, while a doorman two-bedroom is $5,327 (last year: $3,590 and $5,197, respectively).
Still, many of the symptoms of last year's renter's market have vanished. As Mr. Waite said, "The market is almost back to normal," which means incentives are rarer. Don't expect, for instance, to be offered two months of free rent, a common practice in 2009. Also, don't expect to be allowed to put up a temporary wall. The service, which can save renters a bundle, is starting to be more closely scrutinized for legality. Now that landlords aren't so desperate, they're getting stricter about checking for permits.
"The laws haven't changed in 80 years. It's the interpretation of the codes," Mr. Waite said. "You have to get a permit. For years people didn't get permits because people were doing so many. But now, if they check, you could get fined or in trouble."
Because of the dearth of incentives, the buildings still offering them are getting special attention. The Financial District and Stuyvesant Town, where free rent deals still exist, are starting to look more attractive.
Mr. Waite said he doesn't expect rents to go down. But he also doesn't expect them to go up. He predicts they'll remain fairly constant for the rest of the summer. Which means you have a few more leisurely weeks to pick out a place before school starts—or doesn't—in the fall.