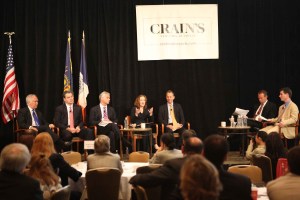 Nassau District Attorney Kathleen Rice unveiled her own financial regulatory reform plan for the attorney general's office today.
According to Rice's campaign, she is the only candidate for the state's top cop to have done so thus far in the campaign.
Her plan calls for permitting the AG to check in on financial agents suspected of wrongdoing without first obtaining a subpoena, creating a position in the office devoted to overseeing the financial industry, and adding increased whistleblower protection to those who come forward to report financial industry fraud.
"Wall Street has the ability to bring great prosperity to New York and the nation, but too often some bad apples have brought hardship and sometimes even ruin to investors, employees, consumers and taxpayers," Rice said in a statement. "With new regulations coming from Washington and the opportunity to expand upon the groundbreaking work done by the OAG already, my plan balances our need to be tough on the bad actors and protect New Yorkers while ensuring that the financial industry thrives."
The announcement comes on the heels of the Crain's Breakfast Forum this morning, in which each of the five candidates tried to explain how their mostly left-leaning policy prescriptions would benefit the business community.
Both of the next AG's predecessors in the office–Andrew Cuomo and Eliot Spitzer–rose to national prominence by cracking down on bad actors on Wall Street. If elected, Rice will not only have to contend with their legacy but with new financial regulations coming from Washington.
Rice posits many of her reforms as going further than the Obama administration's new rules will go and pledges to aggressively sue wrongdoers in order to test the limits of the new law and to create legal precedent.
"Now the fight is joined in earnest by our federal government," the Rice plan states. "The help is welcome, but the next attorney general must be as good at working within the new legal framework as they are at utilizing the existing powers of their office. The reforms are also unfinished, and we will need strong leadership to ensure government keeps up with emerging threats."