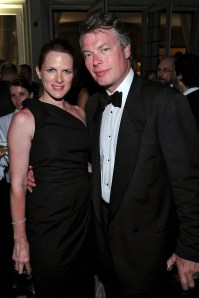 Richard Johnson cannot be bought! Well, he wants to be bought but he's not allowed.
Gawker reported on Friday evening that Richard Beckman, who recently picked up Janice Min for The Hollywood Reporter, tried to snag Mr. Johnson from Page Six by doubling his salary and offering him a signing bonus. All of this was fine with Mr. Johnson! Post editor Col Allan prevented the deal from going through by holding him to his contract, which will keep him around for another few years.
Retention is an issue at the Post right now. Investigative reporter Murray Weiss was the latest in a series of departures from the paper in recent months, and now would be a good time for Mr. Johnson to leave Page Six. His most experienced reporter, Neel Shah, just abandoned him last month after Corynne Steindler and Paula Froehlich took off last year. Meanwhile he has formidable competition at the Daily News since Frank Digiacomo took over Gatecrasher at the beginning of June.
Slightly related: Also on Friday, Page Six reported that Condé Nast employees might start to see their first raises since 2008 after the departures of Mr. Beckman and others created room in the budget.