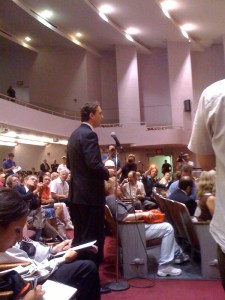 Rick Lazio made a rare appearance at the Landmarks Preservation Commission hearing Tuesday afternoon to speak in favor of a 5-story Italian Renaissance-style building in lower Manhattan.
"I urge the commission to grant landmark status to 45 Park Place," the gubernatorial candidate began in his public testimony at Hunter College.
But of course, Lazio's real purpose was to halt the construction of a mosque at a site close to Ground Zero. He was there to express his support for a landmark designation that would disrupt the construction of the 13-story Cordoba House, a mosque and Muslim community center.
The intention of the hearing, Landmarks Chair Bob Tierney pointed out in his opening remarks, was solely to determine whether the building has a special historical value that merits a designation, and nothing more. (LPC must approve the demolition before the mosque can be constructed).
And Lazio stuck to these parameters, for a bit.
"I ask before you make your decision … you take into account some important historical facts," he told the Commission, before spewing his knowledge of the history of this site, which was first discussed in LPC hearings over twenty years ago.
He lamented that the property of "deep historical significance" has been calendered and adjourned repeatedly.
He also expressed frustrations that not every member of the local community board has voted yet.
"It is important that the full Community Board votes," he said.
But after a minute or so of his presentation on the landmark designation, he acknowledged that this discussion must take place in the context of the proposed mosque.
"This is the time we need to ask serious questions," he said of the mosque and the Imam spearheading the project. "This is no small matter."
After a round of applause, Lazio and his team tried to escape quickly out of Hunter College, but a large group of reporters and several 9/11 families chased after him.
"I lost my son in 9/11," Sally Regenhard, a leading spokesperson for victims' families, said to Lazio. "You are the only politician standing up!" another shouted at him. "I will not rest until we have our questions answered," he responded, while reporters shouted questions at him from all sides.
Reporters asked him about his motives on this cause.
"This is about the safety of the people of New York," he responded.
"It is our responsibility as public leaders to guarantee that," he continued. "And that is exactly and only what this is about. Now there are those who talk about this being in the context of religion. Religion has nothing to do about this."
He deflected questions about whether he would support a mosque under different circumstances.
"This is regarding an Imam," he said. In America, "We are proactive, not complacent," he added.
Lazio wasn't the only politician present with ties to the governor's race.
Tom Ognibene, a lieutenant governor candidate with Lazio's competitor, Carl Paladino, also made a quick statement at the hearing.
"This is an affront to the families of those that died," he said.
Paladino's support has nothing to do with politics—it's all about American values, he continued.
"He [Carl] doesn't think that this is a political issue."
slevin@observer.com