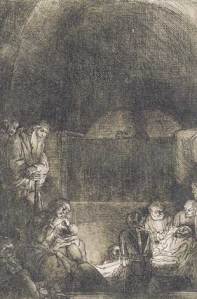 One evening in 1645, while dining, Rembrandt van Rijn realized that there was no mustard on the table. Rembrandt, so the story goes, bet his friend Jan Six that he could complete a sketch in the time it would take a servant to fetch the condiment. The master, a swift draftsman, won handily.
The prolific artist, though best known for his portraits, made hundreds of drawings and mass-produced them, at least in the style of 17th-century mass production, into prints. On Wednesday, July 21, Christie's will auction two prints executed by the artist during his lifetime (in other words, not made posthumously from his printing plates), and the estimates are extremely modest: They start at $8,000.
How is this possible? In part, the recession has dented even Rembrandt. But there's more to the story than that: Geography matters, too. "Most Old Master prints valued above a certain threshold are auctioned off in London," where there is more of a market for them, said Tudor Davies, head of the Prints Department for Christie's in New York. Buyers in America are more interested in collecting Modern and contemporary prints, he said.
Of course, it takes some detective work to discover which prints were done by Rembrandt himself.
The Abraham entertaining the Angels print (below) on the block must have been done within his lifetime, Mr. Davies said, because after Rembrandt's death, the copper plate the artist used for the image is known to have disappeared. It didn't resurface until more than three centuries later, linked to another artist of the time who was using the flip side for his own prints.
The Entombment (above) is another print Rembrandt worked over with his own hands. The scene's dark, theatrical atmosphere is the result of significant whitening Rembrandt did to increase contrast and to highlight figures' faces in the mournful nighttime scene. This print bears two stamps on the reverse side identifying the particular collectors who owned it over the years. Condition, though, is a determinant of price in fine art, and this print has "some pale staining at the sheet edges and slight surface scuffing," according to its condition report.
At the Christie's prints and multiples auction, 11 other Rembrandt prints are also for sale, most executed after his death. Estimates on those begin at $1,500. Mr. Davies said, "It's a big surprise to those of us who sell Rembrandt prints that they don't fetch more than they do."