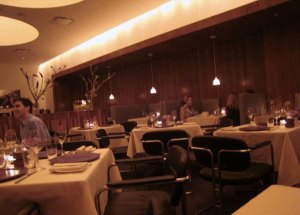 In today's Times, Sam Sifton tackles the Swedish midtown staple Aquavit, coming to the conclusion that the meatballery has slipped in recent years. It also features at least three too many references to Stieg Larsson's thrillers.
In the print edition, the review ran under the headline "The Chef Who Played With Herring," which is clever! Then the lede references how everyone on the subway is reading that book, which is true!
Then, in describing the decor:
It is comfortable if slightly shopworn back there, a company boardroom and meeting space, replete with chic wooden plates and scarred wooden floors. Mikael Blomkvist, the hero of the Larsson novels, might arrive at any moment to blow smoke in the face of a criminal plutocrat.
Uh, maybe. We hear he does that sort of thing all the time, so we'll give it to you.
Finally, at the very end of the article:
ATMOSPHERE A corporate Sweden, devoid of girls with dragon tattoos.
Oh, come on.