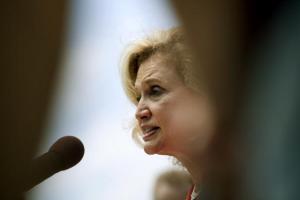 Reshma Saujani's campaign sent out an email today announcing that Representative Carolyn Maloney has agreed to debate her upstart challenger in the 14th District.
"Last night at a community meeting in Queens, Reshma Saujani approached Carolyn Maloney and said that she looked forward to debating her," says the release. "The Congresswoman agreed." The release says Saujani will ask NY1 to host the debate when she appears on Inside City Hall tonight.
But a spokesperson for Maloney's campaign insists the congresswoman didn't agree to any debate deal.
"Right now, the Congresswoman is focused on her legislative work, like ensuring that strong Wall Street reform is signed into law," said Alix Anfang, the campaign's press secretary, in a statement. (A profile in this morning's Washington Post focused on Saujani's Wall Street support.)
Saujani is facing an uphill battle to translate her considerable campaign fundraising into votes, and she's been pressing the congresswoman to engage her. But Maloney has, so far, assiduously avoided even acknowledging Saujani–at a forum they both attended in May, and in her recent WaPo interview, she didn't mention her challenger by name.
While it's unclear exactly what was said in Dutch Kills last night, it doesn't appear that a debate is in the offing anytime soon. The clock on the front page of Saujani's website–the one that tracks the time since it first asked Maloney for a debate–is still running.