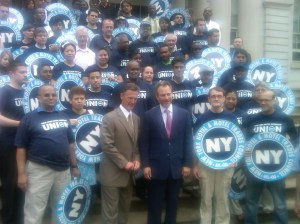 Eric Schneiderman received the Hotel and Trades Council endorsement this morning on the steps of City Hall and afterwards jabbed Nassau District Attorney Kathleen Rice over a report in today's Daily News that she uses a supporter's aircraft to travel around the state in a move designed to circumvent campaign finance laws.
"Look, it opens up a question," he said. "Because I gather they set up a private LLC or something to evade the campaign finance laws, so I am sure the issue will come up and she will have to explain it. She didn't come to the debate this morning but maybe she will come to the one tonight."
This morning there was a attorney general debate sponsored by City Hall News. Tonight there will be another sponsored by the Democratic Lawyer's Council.
Schneiderman also reiterated that he is a progressive: "The progressive causes I spent my life fighting for are about equal justice" he said. "I am now running for New York State attorney general to be the top law enforcement official in the state and my campaign is all about justice."
And he said that New Yorkers were ready for an unapologetic lefty in the AG's office.
"I think the overwhelming majority of the people of the state of New York have rejected the old supply-side Bush economic policies. I think people want more leadership from the progressive wing of the Democratic Party but I don't see anyone here or in the national polling who wants to go back to the old ways. … As I campaign around this state, there is a lot of traction. People aren't mad at unions. They are mad at the fat cats who drove the economy into the ground."