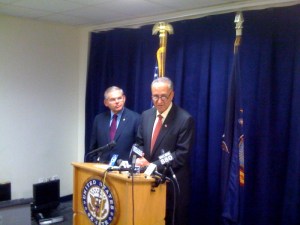 At a press conference in Manhattan this afternoon, Senators Chuck Schumer and Robert Menendez suggested that the British government may have released convicted Lockerbie bomber Abdul Al-Megrahi— and might be resistant to re-incarcerating him — in order to secure favorable oil deals in Libya.
"It smells rotten," Schumer said of al-Megrahi's release.
The convicted bomber was freed from his life sentence last year under Scottish guidelines for compassionate release, after he was diagnosed with just three months to live — a diagnosis he has now outlived by eight months. Following reports that al-Megrahi could live another ten years, Schumer called on the Scottish government to re-investigate al-Megrahi's release, only to have the request denied last week.
So the senators are calling on the State Department to get involved.
"We can't help but wonder if some of the reports about the British having fetid motives are true," he said. "The stench is rising from this decision and the only way that Britain can clear it up is to demand the return of the terrorist from the Libyan government and to renounce all oil deals with the Libyan government."
Schumer stopped short of directly condemning the British, saying the Scottish government's decision not to re-investigate the case "raises the level of these questions that much further."
Menendez suggested the oil deals might help the U.K. offset their losses following the oil spill in the Gulf of Mexico.
"Just read the latest press report about BP getting a contract in drilling off the coast of Libya," he said. "Maybe what they're losing in the Gulf they're going to make up in Libya."
(The spill has already caused some discord in trans-Atlantic relations, with President Obama having to reassure British Prime Minister David Cameron after the president repeatedly referred to BP by its former name, British Petroleum.)
The oil deal allegations were left out of a letter co-signed by Schumer and Menendez — along with Senators Gillibrand and Lautenberg — that calls on the State Department to work with the British government to re-incarcerate al-Megrahi.
"It's an ally but still one we have to call in and say this simply cannot stand," Menendez said of pressuring the U.K. "This is an irritant in our relationship, but it's a significant one."
Menendez said he intends to "press" Secretary of State Hillary Clinton when she next comes before the Senate Foreign Relations Committee, on which he sits. Schumer said he hadn't yet spoken to his former colleague about the letter, but said he knows how terrorism "turns her stomach."
UPDATE: A spokesman for the State Department tells the Daily News that "every day that Mr. Megrahi lives is an affront to the families of those who lost their lives in Pan Am 103."
The letter:
The Honorable Hillary Rodham Clinton

Secretary of State

United States Department of State

Washington, DC 20520

Dear Secretary Clinton:

We write to respectfully ask that the State Department work with the government of the United Kingdom to secure the return of Lockerbie bomber Abdelbaset al-Megrahi, the convicted mass murderer of 270 people including 189 Americans, to Scotland to serve out the remainder of his life prison sentence.

On August 20, 2009, Scottish Justice Secretary Kenny MacAskill granted al-Megrahi a license of release based on compassionate grounds in accordance with the powers granted in section 3 of the Prisoners and Criminal Proceedings (Scotland) Act of 1993. Based on the advice of doctors, Secretary MacAskill apparently believed that his decision was justified. However, with the recent reports contradicting the veracity of these medical reports, we have serious concerns that this decision was based on inaccurate information.

As we wrote in a recent letter to the British Ambassador to the United States, we were very troubled by the news that a doctor who provided medical analysis at the time of the release had been paid by the Libyan government. This doctor was encouraged to provide a life expectancy of three months – a life expectancy estimate that is critical to satisfy Scottish guidelines for compassionate release. According to news reports, Professor Karol Sikora, one of the Libyan-commissioned doctors, recently revealed that "the figure of three months was suggested as being helpful [by the Libyans]." He explained that while he thought it was "impossible" to give a three-month life expectancy, he found he could do it, despite the fact that other doctors would not commit to such a short estimate. Despite our appeal to investigate this matter in light of the relevance of these new reports, we were disappointed to learn that the Scottish government rejected our request on Friday, July 9, claiming due process had been followed and there was no need to investigate the decision any further.

Notwithstanding the Scottish authorities' conclusions, it remains our position that the grounds for release are not justified and al-Megrahi should be sent back to Scotland to serve out the remainder of his prison term. In addition to a state-sponsored welcome home celebration authorized by Libyan leader Muammar al-Qadhafi, al-Megrahi has enjoyed ten months of freedom, reportedly living in the lap of luxury and working on an autobiography that would permit him to profit from his case. Meanwhile, the families of 270 of his victims continue to suffer from the tragic loss of their loved ones. The international community should not allow this terrorist to make a mockery of the justice system.

We believe that the administration should use its diplomatic leverage to secure the immediate return of this convicted mass murderer to Scotland to serve out the remainder of his prison sentence.

Thank you for your consideration of this important request. Please do not hesitate to contact our offices if we can be of any assistance.

Sincerely,

U.S. Senator Charles E. Schumer

U.S. Senator Robert Menendez

U.S. Senator Kirsten E. Gillibrand

U.S. Senator Frank L. Lautenberg