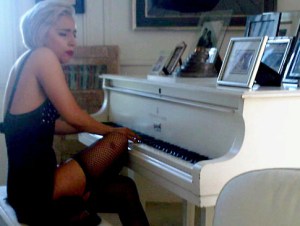 Last week, Sean Lennon tweeted a photo of Lady Gaga playing Yoko Ono's white piano, a gift from John, at Ms. Ono's residence in the Dakota. The Twitpic — Gaga in a black leotard and thigh-high fishnets, seemingly mid-belt — prompted a firestorm of angry Beatles fans to lambaste Mr. Lennon for letting her do such a thing. Ever a man of chivalry, he has stepped up to the plate to defend the honor of both Gaga and the white piano via Twitter.
"WHY WOULD YOU LET LADY GAGA PLAY ON JOHN'S PIANO? I'm disappointed. >:(" tweeted @TaraStaysFresh on July 8. Her profile has a photo of the Beatles peeking out from the left frame.
Mr. Lennon gave a utilitarian response: "pianos meant are to be played. Why is everyone so uptight? What should we do, lock it away in a dusty room? So judgmental.."
His feathers were particularly ruffled by @lavielibre23, whose words (now missing) prompted a two-part reply: "come on, lighten up…life's too short, there're enough real problems in the world…. / firstly, he gave that piano to my mother for her birthday, it is hers, secondly, he was not uptight the way you seem to be." Yes, Sean Lennon had to remind people that his father was not uptight.
We suggest that the dispute, an emotional battle of custody and possession, be used by Mr. Lennon as inspiration for a 21st century house remix of "Imagine."