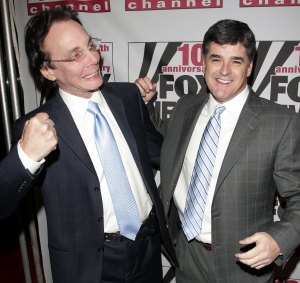 Fox News pundit Alan Colmes (once the "liberal" half of Hannity & Colmes) and wife Jocelyn Crowley have finally sold their Noho condo at the Silk Building on Broadway and East 4th Street. After $200,000 worth of price cuts, the two-bedroom, two-bathroom at the swanky downtown building sold for $1.725 million to James Jarman and wife Catherine.
Mr. Colmes, who now sings for his supper with his namesake radio show, often appears with his sister-in-law, blonde talking head Monica Crowley, on The O'Reilly Factor. Though his wife goes beyond her sororal pedigree: a professor at Rutgers, Jocelyn is the author of the alliterative Defiant Dads, which chronicles the battles of fathers' rights activists in America.
SLIDESHOW > SEE HOW ALAN COLMES ROLLED
The Corcoran listing agent, Margaret Heffernan, could not be reached for comment, but the listing coos, "truly a tearsheet straight from Metropolitan Home;" and continues to detail the luxury and opulence of the triplex penthouse loft, which boasts a "solarium like room," a private terrace, and 14-foot ceilings. "[B]linding open south and north direct exposures bathe this dreamloft in light," and at night you can "bathe in the glow" from the fireplace.
And while Mr. Colmes and Ms. Crowley may be honchos over at Fox News, the pair are ciphers compared to the star-studded roster of the Italian Renaissance, palazzo-style condo. Residents of the building have included Keith Richards, Britney Spears, Russell Simmons and Cher.