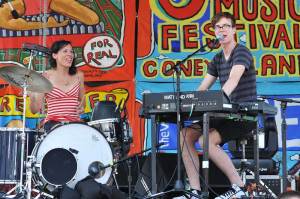 On Saturday, July 17, The Village Voice's Siren Music Festival-a free daylong concert on Coney Island featuring easy hot-dog/roller-coaster access and B-list indie talent-celebrated its 10th birthday. Despite its billing as a fun-for-all-ages event, you were more likely to find a nuclear family enjoying a sober picnic in the Brooklyn Aquarium parking lot than standing amid the crush of hipsters who came for the music. Dripping, bandana'd, sporting sunglasses with cheap neon frames and the angular haircuts of dystopian sci-fi, they half-heartedly seized this event, living out an envy of bigger, lost-weekend festivals on a few strips of asphalt not far from their apartments. Eight hundred miles away in Chicago, the Pitchfork Festival had claimed the A-list indie rockers-Panda Bear and LCD Soundsystem-for the night, leaving the Williamsburg kids with a 14-act lineup to sneer and/or cheer at.
2 p.m. A graying Brooklynite wandered up to the security guard on duty and asked who was playing this thing, anyway. The guard shook his head sadly: Don't know, don't want to know. Former Pratt students Matt & Kim had the evening headliner slot at the Main Stage, somehow contracted to fill 90 minutes with short bursts of keyboard jingles-inexplicably, pop-punk legends Ted Leo & The Pharmacists were opening for them. Over on the Stillwell Stage, Wye Oak, Ponytail, Earl Greyhound, Harlem and Cymbals Eat Guitars would make for an afternoon of brutal, sludgy and caterwauling guitars-a nod to Siren's grunge beginnings in 2001, when it featured Guided By Voices and Superchunk. These days, this "alternative" sound has no crossover prospects (which is probably why it's cool again).
3:40. Brian Black, the bassist of Surfer Blood, bounded off the stage. Moments earlier he'd dedicated a thunderous performance of "Swim," his band's reverb-soaked mega-hit (at least on music blogs), to Metro PCS, a prominent Siren advertiser-all while a ride called Surf's Up swung erratically alongside in what felt like fiendish cross-promotion. It had been a nice set, with a punchy balance of rhythm and guitar sheen, though unsurprisingly, lots of people didn't stick around after hearing "Swim."
4:15. During a monotonous Night Marchers set that may have consisted just of one extended, chugging metal riff, The Observer popped backstage to find the amenities strained. The lone porta-potty was booked for the foreseeable future, and the bar-a promotion for Crystal Head vodka that dispensed pomegranate tea-infused cocktails with names like "Music In Your Head"-was slammed with press and friends of the bands. Unbelievably, it was actually hotter under the tent (the only place booze could be consumed). A few preternaturally good-looking people managed the trick of possessing hair and skin immune to filthy, wet air. Someone was once in a wedding band with "the tall guy from Earl Greyhound"; a sound engineer mentioned he also dabbled in guitar; somebody worked for Matador, the label. "It's the skippers," sighed a man of the interminable wait for liquor. "I hate when people skip." Then someone cut him, and he said nothing.
5:05. Photographers dressed in business casual and festooned with heavy black bags and expensive-looking lenses pressed up against the stage. They looked particularly hot. They snapped The Pains of Being Pure at Heart, the group that owes a debt to (or openly steals) the fey jangle of a 1986 NME cassette compilation. "That's a suicidal beat," a drummer commented on their enthusiastic but wrist-snapping tempo. All smiles, they dispatched three jubilant songs in the first six minutes, filling ears with fizzy, colorful hooks. Lead singer Kip Berman stopped to chat with The Observer for a moment: They're currently recording, the sophomore album will be out next year (the new stuff they played was sleek and promising). He saw the Yeah Yeah Yeahs play Siren in 2002 and loved that he had the chance to as well. A woman noted the asymmetrical continent of sweat on his shirt as proof of showmanship: "No one else was sweating!" she cried.
5:40. Posted all about the game stalls was the Siren Festival logo: a mischievously pretty, tattooed and three-headed female hipster, alluding in one swoop to The Odyssey's seductresses, the temptations of Brooklyn as playground-for-20-somethings and Coney Island's freak show culture. But those conceits don't always mesh. A mischievously pretty, tattooed and single-headed woman smiled professionally through a barker's carnivalisms ("Can eat fire, can lick torches of flame like you or I would lick an ice cream cone …") and blinked hard in the migraine sun. Children, parents and grandparents stared poker-faced as they waited for a climax. Off to one side, a bearded young hipster sat alone in a shaded border of pavement, reading a Paul Auster novel, waiting for something entirely else.
6:10. Temperatures (finally) began to cool. Harlem, a garage three-piece in bandanas, were laid-back and chatty between abrasive pop nuggets. "They're saying 'Witchgreens,'" one of them said, fans clamoring for a number off their ramshackle 2008 debut, Free Drugs. "This is a Matt & Kim song," they lied before playing it. The crowd suddenly woke up, rowdier than they'd been all day. Cymbals Eat Guitars followed with labyrinthine slacker-rock that ebbed and flowed trickily, frontman Joseph D'Agostino saving his breath for the throat-shredding lyrics. The audience didn't quite know what to think, and backslid into apathy. There were valleys of head-nodding and mystified expressions.
8. Matt & Kim had started, but many stayed rooted to Stillwell Avenue as the clouds got pink. Holy Fuck, a Toronto band known for a propulsive, krautrock-inspired psychedelia, brought large potted palms onto the stage. They didn't speak and soon found an electric, junkyard groove that settled over the street like fog. It was incredibly serene, a balm on the scorch mark of the day, and the hipsters swayed at the hypnotic dream-beat.
editorial@observer.com