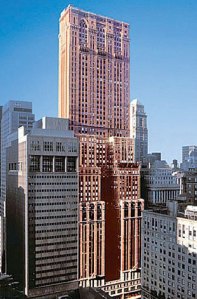 One Grand Central Place
Midtown tourism, it turns out, is about more than ogling tour groups and keychain kiosks-it's also the district of government agencies intent on promoting the latest postcard-ready tourist campaign. The Spanish government's tourism office, for instance, just inked a deal at One Grand Central Place, the glossy tower that's also a ZIP code unto itself.
The agency charged with promoting Spain as a tourism hot spot is moving from 666 Fifth Avenue. Owner W&H Properties' senior vice president Fred C. Posniak credited the building's recent renovation and reposition process with the 8,500-square-foot lease. "We're also seeing tenants choosing to relocate to One Grand Central Place from the Plaza district-in addition to the Tourist Office of Spain, the international hair care and cosmetics distributor Ales Group USA Inc.recently signed a lease," he said.
Owen Hane and John Fitzsimons of Cushman & Wakefield represented the tenant in the transaction. William Cohen, Ryan Kass and Alison Coffey of Newmark Knight Frank, the building's managing and leasing agent,represented the landlord.