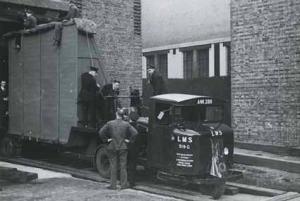 We're over Cold War throwbacks. World War II crime needs to be the next big thing in New York justice.
According to an announcement today from US Attorney Preet Bharara and James Hayes, Jr. of Homeland Security Immigrations and Customs Enforcement:
11 oil paintings that were taken by a U.S. serviceman from a Pirmasens air raid shelter after the allied invasion of Germany in 1945, [were] returned at repatriation ceremony at the Goethe-Institut in Manhattan, New York. The paintings, several by a hometown artist, are on their way home to Pirmasens Museum in Germany.
We would also be up for some Civil-War-type capers, provided they have a Ken Burnsian fiddle soundtrack.