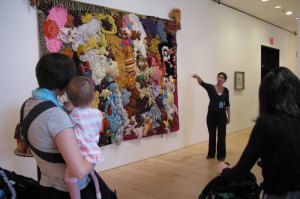 Hannah Rusten squirmed in the air as her mother held her up and gestured at the mud-colored painting in front of them. "That looks like the Gowanus," her mom, Rebekah Coleman offered helpfully, showing her 11-month-old daughter Charles Burchfield's 1938 oil on canvas Old House By Creek.
"We walk by the Gowanus every morning," Ms. Coleman, 30, said later. "I don't know if she made any connection. I doubt it, but …
It was a Friday at noon earlier this month, and the Whitney Museum of American Art was not open to the public yet. Nonetheless, a parade of (mostly) VISTA strollers rolled through the museum's Charles Burchfield retrospective as Ph.D. candidate Emily Liebert guided a tour. Thirteen babies sucked on bottles, burped, napped and gurgled.
At the Whitney, $25-per-adult, or $10-per-member, stroller tours-led by members of the museum's Teaching Fellows program-began last fall, when the museum was showing an Alexander Calder exhibition. Given the "kid-friendly" nature of some of Calder's artworks, parents with young children were asking about the exhibit, said Stina Puotinen, the senior coordinator of family programs at the museum. Thus, an idea was born.
The Whitney's Ms. Liebert discussed the psychedelic qualities of Mr. Burchfield's work, his recurring motifs and his love of watercolor. Five-month-old Elinor chewed on her giraffe.
Of course, with the Whitney's sometime controversial collection, age-appropriateness is a question. One doesn't usually think of young children and Robert Mapplethorpe nudes together. "Just the nature of our collection is sort of contemporary, it's a little esoteric, sometimes making it accessible to kids is … challenging," Ms. Puotinen said.
As indeed it was for Ms. Liebert, gesturing to a wall of Burchfield drawings. "Take a look at this Fear, Morbidness (Evil)," Ms. Liebert said to the moms (and one dad). Ms. Liebert tried her hardest to discuss the psychedelic qualities of Mr. Burchfield's work, his recurring motifs and his love of watercolor. Hannah, out of her stroller and allowed to walk around, appeared to be having a wonderful time. Five-month-old Elinor, daughter of Amanda Firsenbaum, 29, chewed on her giraffe.
Do the babies get anything from the art? "It depends on how old the baby is," said Risa Goldberg, founder of Big City Moms. "The benefit for the art experience is with the mother … and the benefit for the baby is to be with other babies like them so they can interact."
The youngster is a growing market in New York's museum scene. The Brooklyn Museum last November instituted a program called "Meet the Museum," targeted at children 18 months to 3 years old. Parents with young children need something to do when visiting the museum, said Kristin Scarola, family programs coordinator. "Museums are trying to reach out to as many different communities as possible, and toddlers are among those communities," Ms. Scarola said. (Interestingly, though, strollers are banned from the Brooklyn Museum's "Andy Warhol: The Last Decade" show, due to insurance restrictions.)
But while many other museums have events for young children (see facing page), the Whitney is one of the few New York institutions to roll out the red carpet with special events for babies. The main Whitney elevator, the same one they use to transport the art, Ms. Puotinen said, is large enough to take groups up to exhibitions, strollers and all.
But not everything rolls smoothly. As babies cried, hiccupped and sputtered, Ms. Liebert tried to speak over them, her voice growing louder and her chin reaching higher. "I'm definitely speaking to the grown-ups," Ms. Liebert said after the tour was finished. (She said she doesn't take the lack of focus "personally.")
Some of the grown-ups even chatted among themselves throughout the tour like distracted elementary-school kids on a field trip. Stefanie Donath, 37, who was with her 3-month-old Lauren, said she could have paid more attention to the tour than she did but "I was enjoying talking to new moms."
"I think it's fabulous," said Dana Points, editor in chief of American Baby magazine, of the tours. "It certainly is hard to get out of the house when you have a very young baby sometimes." That said, "long term, is it going to make your baby smarter? I'm not convinced."