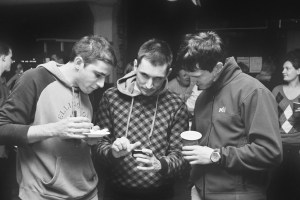 Attention, marketers! A study published yesterday by Forrester Research says that unless you're trying to reach young men, you shouldn't worry too much about running promotions on Foursquare or any of its competitors. According to the report, only 4% of "online adults" in the United States have used a location-based social network, and only 1% do so once a week or more. These users are typical early adopters: 80% of them are male, according to the study, and 70% of them are college grads between the ages of 19 to 35.
According to Melissa Parrish, the Forrester analyst who authored the report, the study was prompted by questions from the firm's clients, some of whom were worried about falling behind because it seemed like "everyone" was using these services. The takeaway from the report, she said, is that for all the attention Foursquare et al. are paid in the press, location-based social media still reaches only a very niche audience, and anyone whose top priority is reaching a high volume of customers shouldn't really care about these networks very much until a lot more people are using them.
But the Forrester report does recommend trying to incorporate location-based apps for certain kinds of marketing campaigns, namely ones that are targeting young men and that would benefit from the attention of certain kinds of "influencers" whose friends and family frequently ask them for advice before buying things. Forrester found that people who use location-based social networks are 38% more likely to be "influencers" than people who don't, which means that even if you're only reaching a small audience when you market something through one of these services, it could be a valuable one.
"While your programs might not generate a critical mass of volume," the report says, "you can reach an influential audience and still have a chance of earning early adopter 'street cred.'"
Ms. Parrish said by phone this afternoon that while she can't think of a product or campaign that would not benefit from reaching "influencers," there are different kinds of influencers, and it's not a given that every marketing effort would be helped by the kind that populate location-based networks. "The fact that people on location-based social networks tend to be influential does not in turn mean that all influencers are on location-based social networks," Ms. Parrish said. "It's not a syllogism."
Thus, the Forrester report recommends that "bold, male-targeted marketers start testing but that most marketers should wait until they can get a bigger bang for their buck, when adoption rates increase and established players emerge from the fray."
The established players they're talking about are Google, Facebook, Yahoo!, and Twitter, all of which are urgently interested in location-based services and all of which have access to many more people than do Foursquare– which recently hit two million users– or its competitor, the Austin-based start-up Gowalla.
"Even the most popular and well-marketed [location based social networks] all lack the scale and reach needed to implement large campaigns," the report concludes. "There are some big players entering the landscape who could define the space. Watch for a series of mergers, acquisitions, and partnerships to form in the next six to 12 months as big and small players arm wrestle for the most users, the best developers, and the biggest marketing deals."
One thing Forrester doesn't emphasize is that people who are on Foursquare are probably much more active than the average American on other social media sites, like Twitter, Tumblr, Facebook, etc. Theoretically, a marketing campaign that reaches such individuals could expect their message to travel to other, potentially larger and more diverse social networks, which should make their eyeballs that much more valuable.
Ms. Parrish said the extent to which users of Foursquare and other geosocial networks are active on other sites was hard to measure with any precision. "Once we start cutting the data based on people who told us they do use the location-based social networks, the sample size gets really small," she said. "I wouldn't want to say they are definitely more likely to be users of the other sites, but I would say that the data points in that direction."