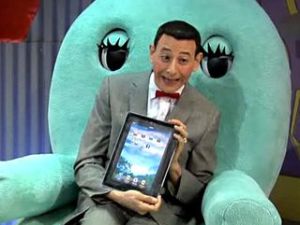 A company called MyType that seems to operate some sort of personality-based social networking site has published what is being referred to as a "study," saying that iPad users are "selfish elitists." As far as conclusions go, this is total catnip for journalists. As of right now the study has been picked up by some 75 news services, according to Google News, and it also made the cover of this morning's amNewYork under the headline "iSnobs." The article was accompanied by an illustration of a bespectacled, cranky-looking iPad with arms and legs wearing skinny, rolled up jeans and black Converse.
"iPad Owners are an elite bunch," according to a summary of the MyType report posted on the company's blog. "They're wealthy, highly educated and sophisticated. They value power and achievement much more than others. They're also selfish, scoring low on measures of kindness and altruism." There is a chart indicating that people with "all or most of these qualities" are six times more likely to own an iPad than the average person.
This would already be a hilarious finding, but they take it to the next level with their next turn:
iPad critics, on the other hand, tend to be independent geeks. They prize self-direction, shun conformity, and are interested in video games, computers, electronics, science and the internet. One of the strongest single indicators of being an iPad Critic is a preference for the Linux (a do-it-yourself operating system for super geeks) over Windows or Macintosh. Even Mac users are more likely to criticize the product than Windows users, the PC population being the least geeky of all. If at this point you're imagining the classic young male geek, your stereotyped imagination is right. iPad Critics do tend to be young men. To add even more color: they tend to have no children and little interest in family.
It is explained that the iPad "elite" is not strictly defined by wealth—there's just something about them, some "constellation of characteristics that defines a leadership class, including intellectuals, political influencers, business executives, and so on (as well as young, rising members of this class)."
You can't make this stuff up. Or, OK, you can. But this study was built on data, from actual surveys, that were administered by the Web site MyType.
It is kind of an inscrutable Web site, actually. In order to click on anything—like seriously anything, including "ABOUT"—you have to agree to share with MyType what looks like a lot of information from your Facebook account.
According to a short description of MyType that appears on the company's blog, the service "is dedicated to letting you take your personality to the web." What that means exactly is explained here in a cheerful blog post that says that once you register for the site you're asked "10 minutes worth of multiple choice questions, and then it assigns your Myers-Briggs personality indicator type." The app allows you to "invite your friends to take the test, and then their 'type' displays in a diagram." According to the blog post, that is the "really cool thing" about this particular social networking application.
According to MyType's full report, which is available as a 39-page pdf on Scribd, the results were derived from a survey given to 20,000 users of the site. Why did these 20,000 people take this survey? The report explains: "Respondents take our surveys in order to get feedback about themselves and compare to friends, meaning that they are more likely to answer all questions honestly than compensated or otherwise extrinsically motivated respondents." The multiple choice iPad question—"When it comes to the iPad, I…"—was slipped in with the other questions.
How many people will register for MyType and take their surveys after reading their uproarious report on iPad users? As of this writing just 15 of my Facebook friends have done it, but it's still early, and not everyone has read an article about their very funny study yet.