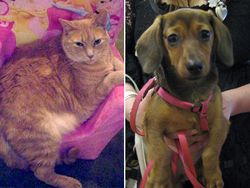 NBC Chuck Scarborough's dog Oliver is literally out in the world saving lives. Literally, protecting cats from coyotes. What are ABC anchors letting their cats and dogs do? Bet on sports. We see you, Walter Tapper. We see you, Daisy Stephanopoulos. We see you placing wagers on the World Cup and doing other things to besmirch your network.
Take it away, TVNewser:
Daisy appeared on "Good Morning America" today, where she predicted that the Netherlands would take home the crown…

Tapper's cat Walter (who has his own Twitter account, FYI) is apparently a Spain fan, and challenged Daisy to a bet via Twitter, with the loser having to donate $100 to the ASPCA
And don't try to hide behind the charity of your choice, Lebron-like. We know it's about the cash.