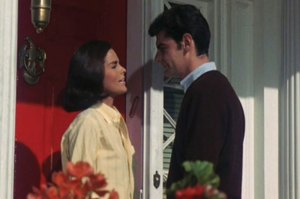 A couple of weeks ago on the op-ed page of The New York Times, Camille Paglia declared Americans sexually dead. Some months before that, the essayist Katie Roiphe declared male American novelists literarily dead in the description-of-sex department. Just about a year ago, the critic Cristina Nehring published a book, The Vindication of Love, declaring Americans also sexually dead-as well as erotically, romantically and literarily.
What all this means is that, finally … Americans are growing up about sex! For what these women really seem to be complaining about is that sex is no longer treated as though it were some momentous experience that is sacredly separate from the rest of life. Three cheers for that.
From my phallocentric perspective, just about every bad thing in history was caused by men who could not work out the right relationship between themselves and their penises.
In fairness to these unhappy bedfellows, they all have different benchmarks for when sex was fun and fulfilling. Ms. Paglia laments the waning of "the elemental power of sexuality" that she found in the "sexual revolution" of the '60s, those lusty days when the Rolling Stones made their "hypnotic recording of Willie Dixon's 'Little Red Rooster,' with its titillating phallic exhibitionism, throbs and shimmers with sultry heat." She also misses "the humorous sexual candor of both men and women during the agrarian era." Ms. Roiphe complains that novels by male American writers nowadays lack the exuberant sex scenes that you found in the work of Roth, Mailer and Updike. Ms. Nehring yearns for a return to the good old days circa 1100, when Abelard lost his senses (and his testicles) over Heloise. In a mostly favorable review of Ms. Nehring's book, Ms. Roiphe writes with mild revulsion that "for most of us love [i.e., sexual love] is largely a matter of shared mortgage payments, evenings curled up on the couch in front of a video, or maybe a night in a hotel for an anniversary." Clearly, for these women, any moment before our moment was a time of sexual happiness.
But they bump heads when it comes to agreeing on anything about the sexual qualities of the past. While Ms. Paglia blames the "priggish" '50s for ushering in a new age of sexual repression, Ms. Roiphe longs for the days of Portnoy's Complaint, The Time of Her Time and Couples, an age that had been ushered in by the '50s. (Let us bid farewell to Ms. Nehring, who in her calls for emotional "derangement" sounds suspiciously like a rich girl on a permanent vacation.) While Ms. Roiphe celebrates Saul Bellow's evocations of sex (perplexingly, since he never once came close to writing an explicit sex scene), Ms. Paglia celebrates the Dionysian "sexual revolution" of the '60s, which Bellow reacted to with a kind of vatic disgust.
As Updike himself once wrote, "Nothing in history sinks quicker … than people's actual motives, unless it be their sexual charm." Adjust that to "nothing in history sinks quicker than how people actually conducted their sexual lives," and you have the chief problem with pronouncing, so generally, on sex, still the most hidden thing we do. Ms. Paglia and Ms. Roiphe aren't writing about life; they are writing about cultural representations of life. As anyone knows who has read about conservative culture warrior Allan Bloom's unrestrained private exploits, there is a whole world beyond what we read about the world.
Does Ms. Paglia really crave a return to that rollicking "agrarian era," when men and women could return from a 16-hour day in the fields and really get down to it, night after frenzied night? Has there ever been a historical moment when the mass of adult humanity did not spend most of their time not having sex, when life was not (fill in the historical blanks) largely "a matter of shared mortgage payments, evenings curled up on the couch in front of a video, or maybe a night in a hotel for an anniversary"? Elsewhere, Ms. Paglia speaks glowingly of the "ribaldry chronicled from Shakespeare's plays to the 18th-century novel." But surely this posturing academic knows as well as anyone that behind the ribaldry was the daily horror of children forced into marriage and lords of the manor raping their servants when they weren't busy raping their wives. Or is the right not to be fucked to death yet another contemporary falling away from "the elemental power of sexuality"?
Let's, however, stick with cultural representations for a moment. By now the weary caricature of the "priggish" '50s has given way to the reality of a decade that saw the rise of beat culture, cool jazz, interracial romances, and the widespread enjoyment of marijuana. It was the age of Kinsey, when sex was, underneath the Rockwellian surface, as polymorphous and plentiful and perverse as it had been in ancient Roman times. Postwar periods are always times of appetites loosened and unconstrained by the absolute permissiveness and horror of war. Ms. Paglia could at least watch a couple of episodes of Mad Men.
As for Ms. Roiphe's golden age of novelistic sex, it lasted about 20 years. Instead of indicting contemporary novelists for their weak and "ambivalent" treatment of sex, she might want to go back and read Twain, Melville, Hemingway, Fitzgerald and Faulkner, none of whom ever portrayed sex graphically. True, they would have run up against the enforced prudery of their day, but the lack of sex hardly diminished the power of their writing. Anyway, you would look in vain for graphic sex scenes in literature from the Hebrew Bible through Homer and Ovid and up to Les Liasons Dangereuses-a novel entirely about sex that is entirely devoid of graphic portrayals of sex-phases of culture when, for the most part, the idea that explicit depictions of sex should be censored would not have occurred to anyone. Would Ms. Roiphe accuse Homer of "ambivalence" for not describing sex between Paris and Helen?
To use a nice '60s term, Ms. Paglia, Ms. Roiphe and their ilk seem to be the victims of false consciousness. For them, the gold standard of happy sexuality is the throbbing mores introduced by the sexual revolution of the '60s. But the '60s presented human sexuality as a fairy tale, in the same way as American culture tends to represent most of human existence as a fairy tale. The '60s packaged, commodified and commercialized sex-it made sexuality unreal. The result is our present situation, where the obligation to have sex, and to have great sex, and to have sex all the time is broadcast at us night and day. If anything, the tentativeness with which contemporary writers treat sex is a subtle protest against what has now become something like an ideological line we all have to toe. Unlike the Paglias and the Roiphes, these writers have not been suckered by the caricature of human sexuality purveyed to us over the last half-century.
Hooray, finally, for our liberation from sexual liberation! Contrary to Ms. Paglia and Ms. Roiphe, sex now is so available, now so much not a big deal, that it is nearly continuous with everyday life. No wonder, then, that our novelists depict it so off-handedly, so mundanely, if they depict it at all. (Just as Jack Kerouac never approached graphic portrayals of sex. But, then, he was not, like Roth, Mailer and Updike, neurotic, repressed and shrewd about creating an audience.) The great benefit of this sudden Greekness of ours is that rather than write about sex, our male novelists can at least try to take on everything else that happens in our human existence around sex. Can you imagine The Great Gatsby written by Philip Roth? It would be The Great Cocksby, and nobody would ever make it out of bed, let alone out of West Egg and into Manhattan. His special field of operations is what makes Mr. Roth a major writer with minor preoccupations.
What is strange is to see women writers hitching up their pants and swaggering around, calling for "elemental" sex and frank portrayals of sex, and "deranging" sex in the same way as men of a previous generation did. They are like D.H. Lawrence in drag. From my phallocentric perspective, just about every bad thing in history was caused by men who could not work out the right relationship between themselves and their penises. (I certainly haven't: We have reached an "understanding.") Having experienced the social transformation of their gender in their lifetimes, these women are now, like some sexual Emperor Jones, speaking the language of their former masters and accusing men of failing to live up to the naughty-boy standards of yesteryear. Too bad that for all the changes of the last several decades, the vagina still can't get a word in edgewise.
editorial@observer.com