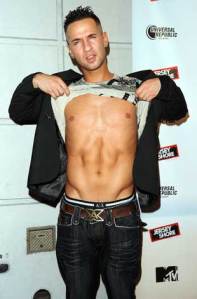 Choire Sicha has an excellent piece on The Daily Beast today that offers a refreshingly candid look at the business side of The Jersey Shore. Amid all these contract negotiations, Tonight Show appearances and, probably, cologne endorsements, it's difficult to tell just how bankable these kids actually are.
Short answer: not very. While the show itself is extremely popular, Executive Producer SallyAnn Salsano said she wouldn't hesitate to replace this specific group of self-described guidos with another one. And while some of the show's stars are having their money managed by their parents, The Situation's idea of sensible spending is, literally, buying an Aston Martin instead of a Ferarri.
"I do think-the kids who drink their own Kool-Aid-they'll be very thirsty very soon," [Salsano] said.
The post comes on the heels of news that the group has received a significant salary increase for season three and are now up to $30,000 per episode. Each received $10,000 per episode this season, which is comparable to what the Real Housewives of New York make.