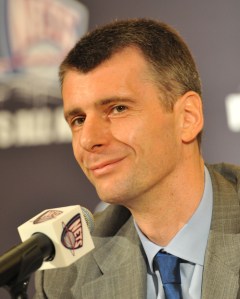 In a story called "Painting the Town Red," the New York Post has caught on to the Russian money that has infiltrated the city:
"Welcome to the New Russian Wave. According to night-life insiders, a surge of rich Muscovites has arrived in New York City, and they're taking over where the beleaguered investment bankers left off – flashing credit cards at clubs, buying up bling at Bulgari, and draining wine cellars of their best bottles all over town."
Among the evidence is a Russian princess named Kristina Kovalenko drinking $5,000 bottles of cognac mixed with apple juice at our favorite Russian joint, Mari Vanna, and spending $6,500 on a lunch at Nello; model Irina Shayk (and girlfriend of soccer player Cristiano Ronaldo) buying three pairs of shoes at Christian Louboutin per visit; and an unnamed Russian billionaire renting the roof deck of a strip club and spending $20,000 on cigars, champagne and girls–"There were like five girls for every guy. They were very generous, definitely big tippers," said a dancer named Cynthia. The billionaire is described as a "40-something, slim and handsome, with chiseled features"–might this be Mikhail Prokhorov?
The Post explains that unlike guilty Wall Streeters, the Russians can spend shamelessly and, compared with Moscow, New York bottle-service prices happen to be a deal.
As Tatiana Brunetti, a partner of Mari Vanna, explained to us a few months ago, New York will eventually become a second London:
"Before, it was very hard to get a visa and travel to United States. When the Soviet Union broke up, people went to London, France, Israel, Spain and started buying real estate, because it's close and you can get a visa. The main reason it was hard to get a visa is that U.S. was scared of you to stay here illegally and work illegally or live off welfare. Even for wealthy people, it was hard. But when America started having not good economical times, then they opened up the borders. It's easy now as long you have a job and invest in American economy."