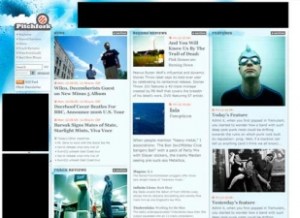 The music site Pitchfork doesn't just spawn bands in its own image, writes The Times–it also breeds blogs.
Jon Caramanica describes how Ryan Schreiber's site went from indie insurgent to establishment, and along the way inspired "Pitchfork Reviews Reviews," a blog that (yes) reviews Pitchfork's reviews:
Early each weekday morning, the indie music Web site Pitchfork posts five new album reviews. Hours later a 22-year-old reader named David downloads them onto his BlackBerry, reads them on his way to work and muscles out a rambling but surprisingly fluid response using his phone's MemoPad function: no links, no capital letters at the start of sentences, just adrenalized response.

When he's done — usually after he gets to work, where he has no Internet access — he e-mails the text to a friend, who posts it on David's Web site, Pitchfork Reviews Reviews, which, since it began in March, has emerged as a vital and unexpected companion piece full of evangelism and skepticism….

"Pitchfork is the hegemon of taste," he said in an interview. Pitchfork Reviews Reviews, while in essence one long love letter to the site, is also a reminder that all brands, even self-styled outsiders, are the establishment to someone.
On the ball as ever, David has already written a guide for Times-directed readers visiting the site for the first time. Among his recommended posts: "what the pitchfork office party was like," "some experiences with unhip music," and "wrote this last night on my blackberry at the forever 21 flagship launch party" ("i'm not gonna tell you what band this one is about because then you won't wanna read it but i promise it's good").
Our thumbs ache just thinking about all this smart-phone produced prose.