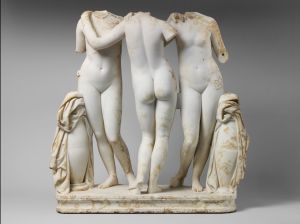 At the dead of midnight last night, the Metropolitan Museum of Art trumpeted, by email, a high-profile acquisition that has been rumored for months.
The Met purchased, for an undisclosed amount, the second-century marble Roman statue, "Three Graces," for years a focal point of their Greek and Roman galleries. The sculpture, which depicts three sumptuous nudes standing with their arms draped on each other's shoulders, has been on loan to the museum from an anonymous collector since 1992, but a fund-raising campaign had to be mounted to keep it at the institution permanently.
Why the secret midnight release? Perhaps to keep online writers from scooping The New York Times, which mysteriously had it in today's paper (fast typing!). If so, they were too late for that. To be scrupulously fair, Art Journal's CultureGrrl reported the acquisition on May 12, although at the time the Met said it wasn't "finalized." Perhaps if a sculpture falls in the forest, and the Times isn't there to type it up, it hasn't fallen yet?
Nonetheless, it's good news for New York art lovers. Although the Met has weathered criticism in the past for acquiring ancient objects of questionable provenance, "Three Graces" has a well-recorded pedigree. A representative from the museum told the Transom that the sculpture was found by accident underground in Via Torre dei Conti in Rome during construction work at the end of the 19th century. After changing hands among a number of Italian collectors, the sculpture came to the United States in 1915 as part of the Panama-Pacific International Exposition in San Francisco.
And if any lingering doubts remain as to just how influential the "Three Graces" sculpture (which is actually after a second-century B.C. Italian one) really is, a google image search should clear them right up.