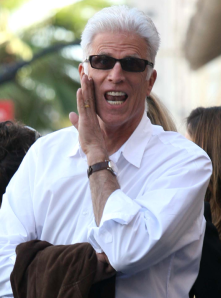 It wasn't quite as gorgeously epic as a certain all-day hearing earlier this year, but Ted Danson's visit to the Senate today was very memorable nonetheless. He was there at 3:15 to see the United States Senate Committee on Finance's Subcommittee on International Trade, Customs and Global Competitiveness, where the actor and marine conservationist talked about the environmental impact of fishing subsidies.
He got off to a rough start. As Mr. Danson began his testimony, the microphone didn't seem to be picking him up. "Mr.—Mr. Danson, let's get your mic on?" Senator Ron Wyden, the Oregon democrat, cut in.
"Push!" said Mr. Danson, noticing the instructions on the little microphone box in front of him.
"There you are," said Senator Wyden.
"Ah," Mr. Danson sighed, "the old follow the directions."
Things got better from there. According to prepared testimony, this is how he was supposed to begin: "I've been working on ocean issues for more than 20 years. My interest started when one day, I decided to take my daughters—who were 4 and 8 years old at the time—to go swimming at the beach in Southern California. We were ready to go and running toward the water, but were stopped by a sign that said 'no swimming, ocean polluted.' My girls couldn't believe it and neither could I. The ocean was closed. They asked me why, why can't we go swimming—in this beautiful, seemingly very healthy-looking ocean? So in the late 80s, I co-founded the American Oceans Campaign."
But the actor ad-libbed! "My daughters asked me why," he told the committee. "And I had no idea. How could something so vast, so large, have a problem? So I started asking questions, and one thing led to another." It wasn't as good as, "Regret, to me, means something you feel you did wrong. And I don't have that," but it was something.