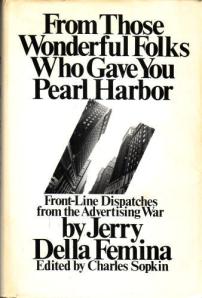 Jerry Della Femina wrote the 1970 memoir, From Those Wonderful Folks Who Gave You Pearl Harbor, that inspired the creators of Mad Men (he also eats many lunches at Michael's). Simon and Schuster has reissued the book to coincide with the show's impending fourth season, and Katie Roiphe took the opportunity to chat with Della Femina about his memories of mid-century advertising.
Fear not, eager audience members, all the crucial elements are addressed.
Booze:
He remembers the era when martinis came with lemon peel instead of olives – because olives displaced too much gin.
Light-hearted workplace lechery:
For 25 years his firm ran a secret sex contest, in which people voted for the person they would most like to sleep with. The winners would get a weekend together at The Plaza Hotel, and the event lasted into the 1990s when sexual correctness finally took over.
Shrewd self-invention:
This was one of the smaller, Jewish agencies. He says: "I worked there for two, three months and I was coming down in the elevator one night at 9.30pm and the new boss gets on and he says, 'Workin' late tonight, kid?' And I said: 'Ma nishtana halayla haze mikol haleilot?' which is a Hebrew prayer meaning, 'Why is this night different from any other?' He gave me a $3,000 raise before the elevator hit the bottom." Not every Italian kid from Gravesend, Brooklyn, could pull that off.
And of course, the dark side:
When he first started making money, he bought his wife some fabulous clothes. She visited her parents in Brooklyn, proud of her success. Her mother opened the door and said, "you look like a Jew".
Bonus points for casual anti-semitism! No word on sexless blind dates.