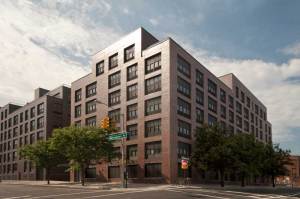 On the evening of Oct. 25, 2007, three trapeze artists swooped above a crowd gathered in the Streb Lab for Action Mechanics, on Williamsburg's North First Street. As waiters carried trays of hors d'oeuvres through the converted warehouse space, gymnasts performed stunts on trampolines. The guests, each of whom received a free umbrella, had come to buy condos.
"That was a really fun, really great party," Stephen Kliegerman, Halstead Property's executive director of development marketing, told the Transom. The event, hosted by Halstead, promoted the sale of luxury condominiums in the nearby 80 Metropolitan Avenue, which at the time was still under construction. Buyers didn't mind that the apartments did not yet actually exist. The party was dazzling. Excitement was high. Brokers closed deals based on floor plans alone.
Fast-forward a year to fall 2008: When the market tanked, condo opening parties went extinct. During the long slog through 2009, Halstead didn't host even one. But now, tentatively, they've returned. The brokerage resumed throwing condo parties in January of this year, and by year's end, it will have hosted a dozen. These parties, though, are nothing like they once were. Gone are the trapezes, replaced by fried chicken and beer.
At the June 23 opening party for 58 Metropolitan, 80 Met's neighbor, the elevator was out of order and guests had to walk up seven flights of stairs to a terrace. "We're getting a technician," intern Alex Andrews said. Like 80 Met in 2007, this building was under construction. But Halstead and the developer, Steiner Companies, had prepared a collection of model apartments, which would themselves be the main attraction.
"The party at 58 Met was really about the product, and not about the celebration," Mr. Kliegerman said.
Still, the mood was celebratory. As speakers played singles from Brooklyn bands (Grizzly Bear, Dirty Projectors), sales agent Kasey Chaleunsouk led a raffle, drawing business cards from a fish bowl. One of the prizes, because fate apparently has a cruel sense of humor, was a gift certificate for trapeze lessons at Streb.
"In general, everything's been scaled back in terms of events," Halstead project manager Hunter Frick said. "We're now accomplishing essentially the same thing on a quarter of the budget."
Earlier that evening in Manhattan, talk at the opening party for the luxury condos at the 400 Fifth Avenue Setai Residences focused, similarly, on the building itself. The event wasn't actually on site—guests congregated on the 24th floor of 55 East 59th Street, in the offices of Bizzi & Partners, the building's developer—but a scale model of the new building, accompanied by photographs and samples of wood and tile, dominated the space. When Robert Siegel, the architect, delivered a speech, he talked about air rights, landmarking and architectural inspiration.
"We tried to take these historical notations and reinterpret them in a modern way," Mr. Siegel said.
Less than three years ago, that kind of speech would have put an audience to sleep. In December 2007, at the party Halstead hosted for the Bridges NYC condo development in East Harlem, the developer raffled off a Triumph motorcycle—and a motorcycle jacket to go with it. In hindsight, Mr. Kliegerman said, the former practices look a little extravagant.
"Parties went a little bit over the top because money was flowing and things were good and developers were a little bit flush," he said. "I guess you could equate them to the dinners the hedge fund managers would have. They would go a little bit overboard because they could."
Nowadays, Halstead deals in a cheaper commodity: sentiment. At the June 17 launch party for the condos at 540 West 28th Street, a building dubbed "+aRt" ("plus art"), Halstead brokers pitched an experience they called "bohemia-nouveau." Broker Robert Lynn, standing in one of the model apartments, said the rough-looking floors are intended to recall Chelsea's "whole warehouse district vibe." Indeed, "CHELSEA IS THE BIRTHPLACE OF CREATIVE MODERN ART AND THE HOME OF BAD BEHAVIOR" claims the first page of +aRt's pamphlet.
Mr. Kliegerman said that whereas pre-recession extravagance celebrated "a perception of a lifestyle," now the parties aim to promote "the reality of the lifestyle" of a neighborhood. Such "realities," built upon local color, are necessarily sentimental and, due simply to the nature of an organized party, contrived. At the launch party for 58 Metropolitan, the food (fried chicken, pie and greens) came from Williamsburg food purveyor Pies 'n' Thighs, and the beers were from local favorite Brooklyn Brewery. Later this year, Halstead will host a launch party for the Columbia Commons condos at 110 Warren Street in Brooklyn Heights, and the event, which project manager Mr. Frick said will be "kind of a street fair," will feature exclusively local vendors.
"You don't see a picture of two people sitting on their balcony in a tuxedo and ball gown overlooking a skyline view that may not exist from the apartment," Mr. Kliegerman told the Transom. "Today you're seeing a more realistic depiction of the lifestyle at the building, what you can get every day in the neighborhood."