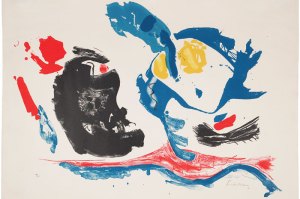 Helen Frankenthaler was 23, only three years out of Bennington, when she developed her richly colored, radiant whirls and whorls of "stain" paintings. She'd seen Jackson Pollock's "black-and-white" stain paintings, and adapted them, in 1952, to create her own idiom by greatly thinning out her paints and spreading them in broad swaths, curves and splats upon the canvas. The first painting she made of this type, the large Mountains and Sea, profoundly influenced Kenneth Noland and Morris Louis, two young and still-unknown Washington, D.C., painters who were taken to see it by the critic Clement Greenberg. But such experimental yet serene work also enabled Ms. Frankenthaler to catch the eye of Thomas B. Hess, editor of Art News, who featured her in two sizable articles on the "younger generation," first in 1955 and again in 1957.
By the end of the '50s, Ms. Frankenthaler had become one of only three women Abstract Expressionist artists to establish a major reputation in the old-boy art world.
By the end of the '50s, Ms. Frankenthaler had become one of only three women Abstract Expressionist artists to establish a major reputation in the old-boy art world (the other two were Joan Mitchell and Grace Hartigan). In 1960, she had her first retrospective, at the Jewish Museum. But 1960 was also the year when Tatyana Grosman, founder of Universal Limited Art Editions, invited Ms. Frankenthaler to make lithographs at the ULAE workshop on Long Island. The involved, painstaking process by which the artist arrived at finished ULAE prints during her first decade of print-making is the subject of the current absorbing and beautiful show at the Craig F. Starr Gallery. Because it shows some of the same lithographs in various stages, from tentative to complete, viewing the show is a little like being invited in to see how a supremely gifted artist works.
Ms. Frankenthaler has always done much experimenting before she arrives at a finished painting, but a graphics workshop also requires teamwork. As the artist said once, in an interview, "If you're going to try it, it involves maybe five steps with five people, and what's great at Tanya's is that they learned to accept this and really felt the artist is supreme." In all, 21 images are on display, but only seven are "artist's proofs," meaning the final version that the artist has accepted and that ULAE would then replicate. The other 14 are "trial proofs" or "working proofs."
All 21 images are drawn from the artist's private archive, and they show how much she demanded of herself. Many of the trial and working proofs would have delighted her legions of collectors, but Frankenthaler kept going until she herself was satisfied. First Stone (1961) was the artist's initial lithograph. Employing red, white, blue and black, she created a rollicking image of vigorous, dancing forms, expressing the youthful ebullience that also characterizes her paintings from the '50s and early '60s. Between the working proof and the artist's proof, she made changes that bring the whole composition more tightly together: She added red at the bottom, exorcised some of the black, amplified the blue and curtailed the yellow,
White Portal (1967) resembles the statelier, simpler style that the artist explored as a somewhat more mature woman in her paintings of the later '60s. This exhibition includes five preliminary stages that the image-with its two narrow vertical spikes of blue to left and right, plus a slightly broader horizontal band of yellow joining them at the bottom-went through. First comes a black-and-white collage, followed by several instances of a broad, descending sweep of shadowy white on pieces of pale brown, rust or sleet-blue paper. After integrating this pale white shape into the center of the finished version of White Portal, Ms. Frankenthaler later made it into another, even simpler but equally elegant lithograph, Silent Curtain (1967-69). And that's just the beginning of this highly intriguing show. It offers a window into the artist's thought processes throughout the 1960s, an era whose vitality in art left us a legacy still to be enjoyed.
Ms. Frankenthaler went on to have a retrospective in 1969 at the Whitney Museum of American Art, and another in 1989, originating in Fort Worth and appearing in New York at the Museum of Modern Art. The artist's most recent paintings exhibition in New York, at Knoedler's in 2008, was "Frankenthaler at Eighty: Six Decades." It consisted of nine almost uniformly magnificent pictures from throughout the artist's career, all distinguished by her unique ability to combine luxuriant shapes and a flawless sense of color with an almost invisible but nonetheless steely intelligence.
People who have trouble with such art call it merely "decorative"; those with the capacity to see more clearly will often find themselves deeply moved. Purely pictorial art can sometimes reach viewers on a level beyond intellectual analysis or words.
"Helen Frankenthaler" is at Craig F. Starr, 5 East 73rd Street, through Aug. 13 (www.starr-art.com).
Art critic Piri Halasz is guest speaker Aug. 22 at the Pollock-Krasner House in the Springs near East Hampton, N.Y.