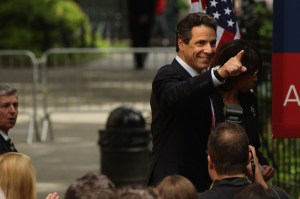 On Friday afternoon in Lower Manhattan, a handmade chart hung on the white wall just inside the 33rd-floor office of the political fund-raising firm Darrison Barrett and Associates. Scrawled in colored marker were last-minute pledges to the firm's stable of candidates — all of which needed to be collected by 11:59 p.m. on Sunday evening, in order to qualify for Thursday's all-important financial filing.
'Filing Deadline: Only a few hours left!!' read a subject line from AG candidate Sean Coffey on Sunday morning.
"Every time we get someone on the phone who says, 'O.K., come on over and pick up a check,' we put it on the chart, and then the next intern up has to run out and get it," said CEO Cindy Darrison, who is raising money for State Senate candidates Didi Barrett and Regina Calcaterra and for Assemblyman Jonathan Bing, and is helping to retire the campaign debt of Manhattan DA Cyrus Vance. "It's kind of like the ball boys at the tennis match."
Without a single disclosure required between January and July, this week's deadline has become a closely watched mid-summer measuring stick for the relative strength of every candidate in a contested race, which turned last weekend into a frenzied race to grab up every last dollar floating in the campaign ether.
Last year, Ms. Darrison's office held a contest for interns: Whoever picked up the most checks, rode the most subway lines, visited the most boroughs, walked the farthest or could present a particular hardship on the way to one of their last-minute collections got a Starbucks gift card. She's sent car services to collect checks just before the deadline, and, on this Friday, one of the firm's finance associates, Hilary Keller, was getting ready to hop the Hampton Jitney to Mattituck for an overnight trip to pick up a check on Saturday morning.
"It's intense," said Ms. Darrison.
Nearly all of Ms. Darrison's clients had weekend fund-raisers scheduled, and she was offering admission to a Monday evening event at a lesser price to anyone who paid before the Sunday night cutoff.
But there would be plenty of competition, particularly in the East End, where a number of candidates were holding deadline get-togethers. Andrew Cuomo's campaign hosted its own "Hamptons Weekend," with a Friday night stop in Quogue; Saturday cocktails at the Bridgehampton home of Barnes & Noble chairman Leonard Riggio; and Sunday brunch at the East Hampton estate of the hedge fund manager Jim Chanos.
And then there was the push for online contributions:
"Filing Deadline: 61 Hours to go!" read a subject line from attorney general candidate Sean Coffey on Friday.
"32 hrs. — Please help," pleaded an Assembly candidate on Saturday.
"24 Hours To Go," reminded a State Senate candidate that night.
"Filing Deadline: Only a few hours left!!" came Mr. Coffey again on Sunday morning.
And then, simply: "Tonight!" This from AG candidate and state senator Eric Schneiderman-or, more precisely, from his daughter, appealing on her dad's behalf.
The only campaign not counting down to Sunday night seemed to be that of Mr. Cuomo, who-sometime before he ran for attorney general in 2006-quietly solicited a clarification from a former executive director of the State Board of Elections that allows candidates to count contributions right up to the filing date, which always falls a few days after the specified cutoff date.
"It's not anything on file. It's not anything official," said Board of Elections spokesman John Conklin. "They're the only ones I've ever heard this issue raised by, or discussed by, or talked about by."
In January's filing, David Paterson and Rick Lazio stopped counting contributions on Jan. 11, but Mr. Cuomo counted contributions up to Jan. 14. In those three extra days, Mr. Cuomo notched 233 donations, for a combined total of $755,902-more cash than Mr. Lazio had on hand at the time.
The extra time could serve as a way to pad one's financial strength, although with Mr. Cuomo already smothering Mr. Lazio-by about $15 million, as of January-it doesn't seem to offer much material advantage.
Aides to Mr. Cuomo stress that filing the donations closer to the actual deadline–rather than having them appear six months later–only increases the level of transparency.
Of course, it also might mean that the scrambling last weekend was a tad premature. "It's not like it's a violation of the law," said Mr. Conklin of Mr. Cuomo's extra time. "If you want to keep adding stuff for four days after the cutoff date, to in essence pad your number, you're not necessarily going to get a letter from us saying that's a bad violation."
rpillifant@observer.com